Get your ticket for March 26-28
Visit Open-E at cloud.FAIR booth C04
-
CloudFest 2019 is fast approaching and it's high time you get your ticket to this biggest hosting and cloud festival in the world.
-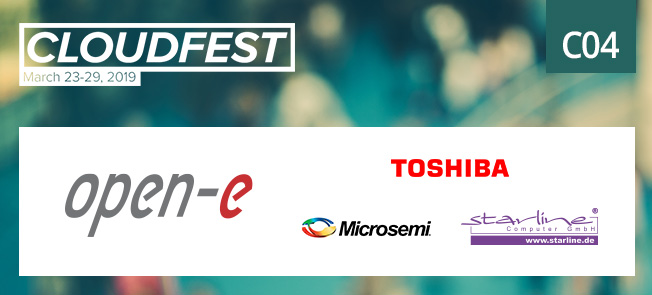 -
Meet us and our Partners
You can still get your free ticket
-
If you already have your tickets don't miss the chance to see live demos, talk to our technical specialists face-to-face, and learn more about storage solutions with Open-E software as we'll be a co-exhibitor at cloud.FAIR booth C04 with our trusted Partners Toshiba Electronics Europe, Starline and Microsemi. We're looking forward to seeing you at Europa-Park in Rust next week!
-
If you still don't have tickets to the show, send us a quick e-mail and you'll get your free ticket.
-

-
Don't forget to visit Open-E's partners:
---
For more info about CloudFest 2019, its complete agenda and travel information visit the event's website here >>