Request a guided demo
Explore Open-E JovianDSS with an Open-E Engineer assistance
-
Recently we have added a brand-new option that can serve as an additional training tool for you and your customers - a free Open-E guided demo with an Open-E Engineer as your tutor. Read on and lern how you can benefit from it.
-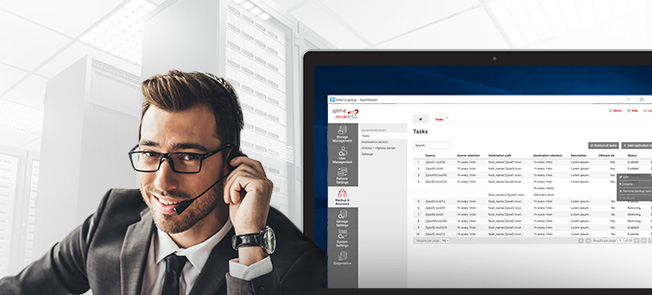 -
First-hand technical knowledge from Open-E specialists
To experience all Open-E JovianDSS possibilities
-
Open-E JovianDSS is a ZFS- and Linux-based Data Storage Software designed for businesses of any size, especially for Software Defined Storage environments. Now you can learn everything about its features, benefits and usage not only by means of our videos and written resources, but also thanks to the online demo, available free of charge. The demo is held by the team of Open-E Engineers who have comprehensive knowledge of the software. All you need to do is:
Go to the Open-E website >>
On the first slider on the main page of our website click the Request a guided demo button.
Fill in the requested fields.
And that's all! An Open-E Representative will contact you so as to set up an appropriate date for the training with the online demo. No installation or additional setup needed!
---
Want to check yourself in practice?
Use the Open-E JovianDSS Trial
-
Do you want to further increase your Open-E JovianDSS knowledge? Spread the news about the complimentary and fully functional 60-day Trial version of Open-E JovianDSS thanks to which you can verify your abilities in practice.
-
-

-