New certified storage server for
Open-E JovianDSS
-
Our engineers certified a new storage system by our partner Boston Server & Storage Solutions for Open-E JovianDSS. Find out more about the Igloo 4U-24T-Stor in today's newsletter.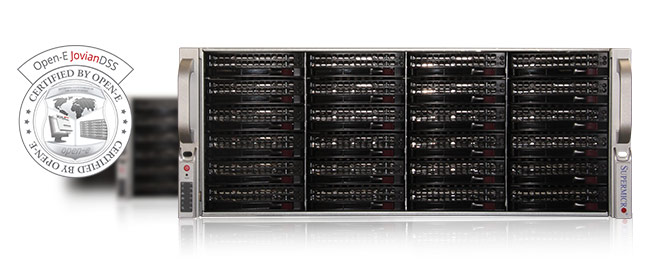 Boston Igloo 4U-24T-Stor
Storage for the SMB market
-
Boston's Igloo 4U-24T-Stor is a reliable, field-proven and cost-effective storage solution for SMB customers. The system offers up to 96% power efficiency, and meets virtualization and IO demands by leveraging tiered storage, hybrid storage and all-flash array.
-
Enhanced storage performance
Hardware independence
Flexible scalability
Optimized for Private Cloud

Simplified management
Tiered RAM and SSD cache
Data compression and in-line deduplication
Thin provisioning and unlimited number of Snapshots
-
The 4U Supermicro chassis is equipped with 24 x hard-drive bays - 21 are populated with 2.0TB 7200K RPM SAS HDDs for data storage; complimented by 1 x 400GB SanDisk Enterprise SSD for an L2ARC read cache and 2 x 200GB SanDisk Enterprise Endurance SSDs used in a mirror configuration as a ZIL write cache.
-
Find details about the server in the Certification Report >>
---
Company information
Boston Server & Storage Solutions
-
Boston is an international specialist hardware solutions provider headquartered in the UK with subsidiaries in Germany, India, Australia and the US who work with partners to provide turn-key systems for various markets and applications. The company operates heavily within a number of different industries; being uniquely placed to offer partners and their customers the latest in technology for testing real world applications – giving them the leverage over competition. The storage system is available through Boston Server & Storage Solutions and Boston Limited