Certified hardware solution for
Open-E JovianDSS
-
Open-E's QA team recently certified another system for ZFS-based Open-E JovianDSS, this time from our partner Boston Limited.
-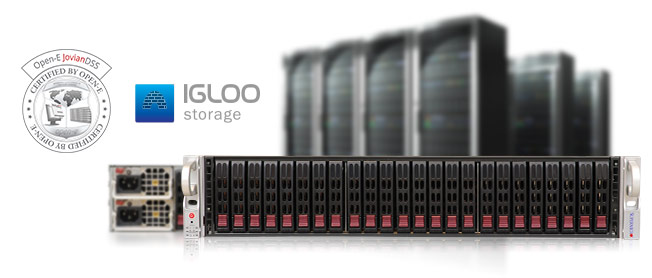 Boston Igloo 2U-19T-Stor:
Versatile storage server for all situations
-
The Boston Igloo 2U-19T-Stor is a fully redundant and fault-tolerant solution. It's capable of running large workloads delivering high-bandwidth and industry-leading Ethernet connectivity for enterprise datacentre, high performance computing, and embedded environments.
-
Enhanced storage performance
Optimal resource utilization
Flexible scalability
Simplified management

Thin provisioning
In-line data deduplication
Tiered RAM and SSD cache
Unlimited number of snapshots and clones

For greater capacity, the Supermicro chassis is equipped with 24 x 2.5" hot-swap SAS/SATA HDD/SSD bays. A total of 18TB of SAS HDD capacity for ultra-fast, low power SAS storage.

-

Find out more and go to the Certification Report >>
---
Company information:
Boston Limited
-
Boston Limited has been providing first-to-market technology to a diverse client base since 1992. In 1994, Boston became the first company to bring Silicon Valley-based Super Micro Computer, Inc. (NASDQ: SMCI) to Europe, reselling their high-performance, energy efficient motherboards, chassis and server systems. Since then Boston has become one of Supermicro's most respected technology partners and a world renowned systems integrator, designing our own award-winning range of server, storage and workstation solutions. This solution is available through our partners, Boston Limited and Boston Server & Storage Solutions GmbH.