Watch our brand-new video
Open-E JovianDSS High Availability Cluster movie
-
Another Open-E Video is now availabile! Watch it and learn why having a reliable cluster solution may save you time, money, and most importantly: your data.
-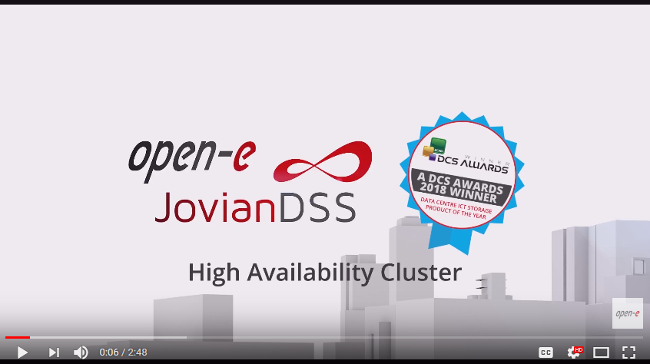 -
Business Continuity and maximum Data Security
even during hardware failures
-
Having a constant and uninterrupted access to all your company data is an indisputable must. Not only a server failure might be a threat to your data, but unpredictable events like power outages in your data center or theft may cause some serious problems for your business.
-
The solution to this are storage clusters, one of the most secure setup options that effectively increase not only the performance. With Open-E JovianDSS High Availability Clusters, Business Continuity, data safety, cost-effectiveness, as well as overall reliability are guaranteed. Learn more with the latest Open-E Video!
-

---
Open-E JovianDSS cluster solutions
for highest performance and cost-effectiveness
-
For more info about high-performing Open-E JovianDSS cluster solutions read our solution articles that cover a few examples of cluster setups >>
-
Read also a how-to guide explaining the configuration of an Advanced Metro High Availability Cluster with Open-E JovianDSS. Download the pdf document here >>