Extended until July 31, 2017
50% off Open-E JovianDSS Feature Packs
-
Our recent promotion has been extended! Get the Open-E JovianDSS HA Cluster Feature Packs at half the price, now until July 31, 2017.
-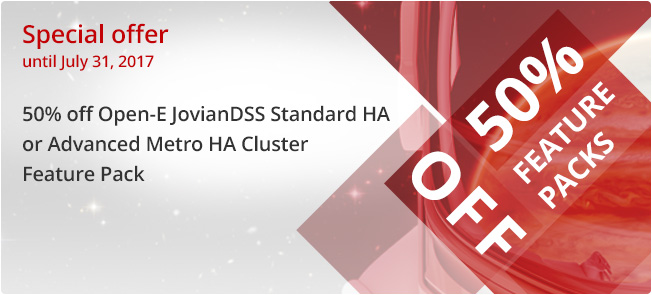 ---
Standard HA or Advanced Metro HA Cluster
Pick a Feature Pack that suits your customer's needs
-
Offer Open-E JovianDSS High Availability Load-Balanced Storage Clusters with SMB/CIFS, NFS or iSCSI now. Our two Feature Packs provide a variety of setup options for your customer's HA storage environments:
---
Spread the word about this promotion today, and reach out to the Open-E Sales Team for further questions and quotes.