Promotion reminder
50% discount on Open-E JovianDSS Feature Packs
-
Experience all the benefits of our High Availability Cluster solutions with a special discount thanks to which you will save 50% when buying one of the Open-E HA Cluster Feature Packs.
-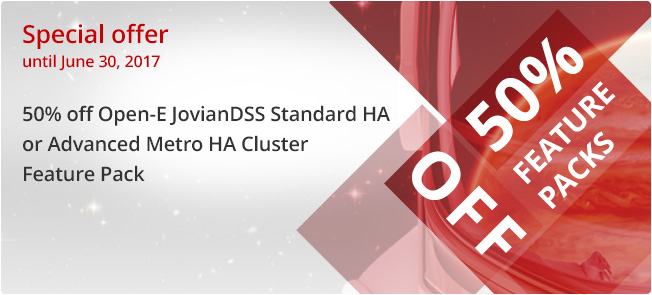 ---
Get your Feature Pack at half the price
Valid until June 30, 2017
-
The ZFS-based Open-E JovianDSS is a cost-effective, reliable and redundant solution that enables you to set up High Availability Load-Balanced Storage Clusters with SMB/CIFS, NFS and iSCSI protocols. You can choose from two Feature Packs:
---
Contact an Open-E Partner in your area now to order your Feature Pack, or to get more information.
-