Open-E JovianDSS
High Availability Cluster Feature Packs
-
Open-E JovianDSS includes failover functionality for SMB, NFS and iSCSI protocols allowing users to set up High Availability Load-Balanced Storage Clusters which can be built by means of Feature Packs. Check out the options you have with the software and share our running promotion!
---
Reliability, redundancy and data safety
with cost-effective Open-E HA Load-Balanced Clusters
-
Open-E provides a variety of setup options for your customer's HA storage environments as we offer two types of Feature Packs to build an Open-E JovianDSS Cluster: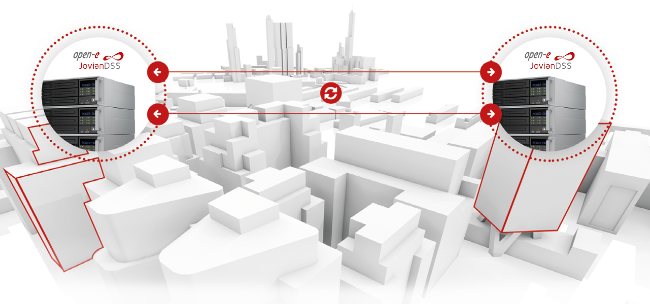 -
Get a Feature Pack or Basic license
at half the price
-
Don't forget that customers can get 50% off the required Open-E JovianDSS Feature Pack when ordering a Cluster. If they want to set up a Single Node, they will receive a 50% discount on the Basic Open-E JovianDSS license.
-
This offer is valid until June 30, 2018 and cannot be combined with other special discounts.
---
Pitch all your questions at the Open-E Sales Team directly! Call +1 (678) 666 2880 for the US / +49 (89) 800777 0 for Europe. You can also send an e-mail to sales(at)open-e.com