Voting now open
Open-E is a finalist in SDC Awards 2019
-
Good news! Open-E is shortlisted as "Storage Company of the Year" in the SDC Awards 2019. We're honored to be listed as a finalist among the best on the market.
-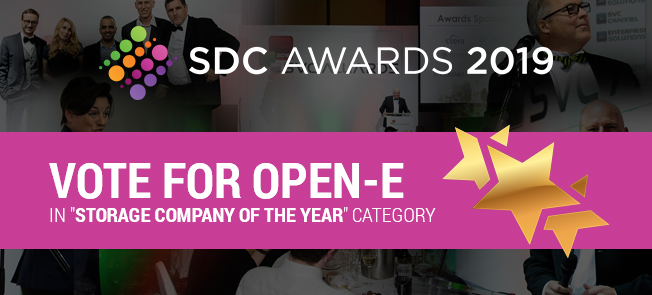 -
We can win only with your support
Cast a vote for the Open-E company
-
Most of you probably know Open-E and our products for data storage. Needless to say, Open-E is a stable, solid, and reliable data storage solutions, which enjoys a reputation of having the best-in-class performance, flexibility, reliability, scalability and return-on-investment. Our flagship Open-E JovianDSS is a ZFS- and Linux-based Data Storage Software has already been appreciated for its innovation and robustness by being awarded by the DCS Awards 2018 as "Data Centre ICT Storage Product of the Year. Now its time for you to vote for us in yet another award.
-
Open-E has been shortlisted in the "Storage Company of the Year" category in SDC 2019 Awards. Cast a vote for us if you think we deserve this prize. Remember that there are less than four weeks left to vote - you can do it only until November 15, 2019.
-