Successful Implementation
Storage Solution with Open-E for a Czech NGO
We start the year with some exciting news! A non-governmental organization, Post Bellum from Czechia, turned to Abacus Electric, a data storage provider, for a tailor-made solution that would fulfill the organization's highest needs. Abacus proposed a solution with Open-E JovianDSS software and that was it! Read the details of this amazing project.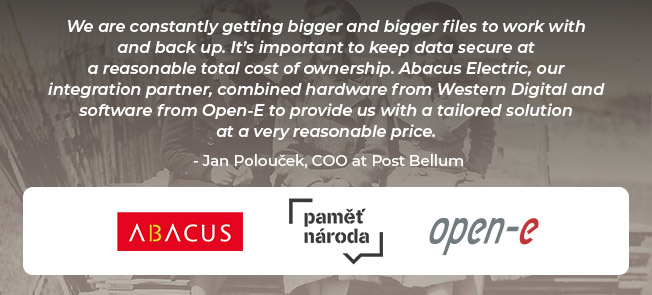 Saving the Memories for Future Generations
Read the Case Study
Post Bellum documents the memories of impactful events of the 20th century. Their mission is to pass these testimonies to a broader audience and the next generations.
After over two decades, they owned a couple of NAS servers from various manufacturers, with varied capacities and features. During that time, the company collected 550TB of raw data, mainly video files, and the number is still rapidly growing. Therefore, their main goal was to consolidate the infrastructure and prepare it for further increase.
The goal was met thanks to Abacus Electric, a long-term Open-E Platinum Partner, who proposed the Abacus a-2610Q-KRPA 4U Server powered by the ZFS and Linux-based Open-E JovianDSS data storage system.
For more details, read the Case Study.