New update available
Open-E DSS V7 up57
-
The new update 57 for Open-E DSS V7 Data Storage Software has just been released, and is now available on our website.
-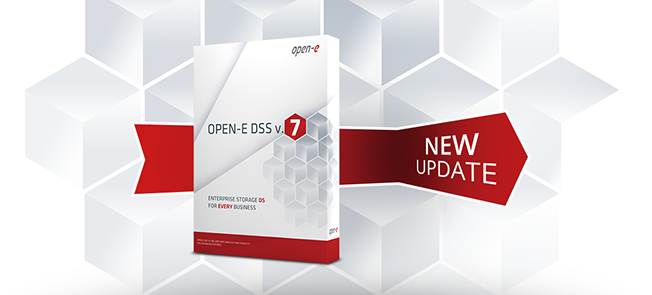 -
Easy management and better performance
Download Open-E DSS V7 up57
-
This update contains functionalities that further improve storage management, monitoring and performance of Open-E DSS V7, including:
Online tutorials in the WebGUI for instant step-by-step directions
HA cluster management with CLI / API commands
Volume availability monitoring with IPMI watchdog in High Availability Clusters
Auto-Discovery AFP shares with Bonjour functionality
Support for SMB2 protocol for performance improvement
Ability to use external, removable devices (e.g. USB, hot plug SATA/SAS) as a storage for Local Backup functionality
Windows Server 2012 Hyper-V drivers for paravirtualized hardware
Improved mechanism of hardware failure detection
and more!

-
Find detailed information on all recently included drivers, and hardware requirements in the Release Notes for Open-E DSS V7 up57.