New update available
Open-E DSS V7 up66
-
The new update 66 for Open-E DSS V7 Data Storage Software has just been released. Read on for more details.
-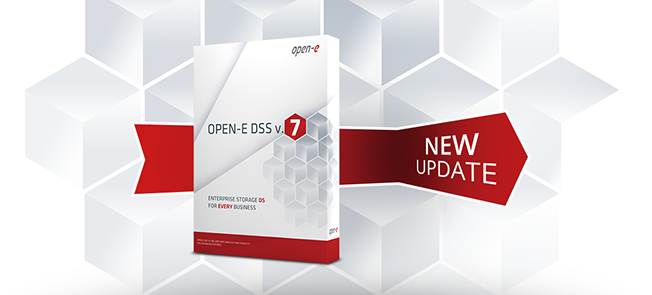 -
More drivers, fast booting, better performance
Download Open-E DSS V7 up66
-
Open-E DSS V7 is a Linux-based data storage software used for building and managing centralized data storage servers - NAS and SAN
-
This update contains functionalities that further improve storage management and performance of the software, including:
Apart from the new features and supported drivers the update contains a range of fixes so as to make your daily use of Open-E DSS V7 even more convinient and flexible.
-
Find detailed information on all recently included drivers, and hardware requirements in the Release Notes for Open-E DSS V7 up66.
-
-

-
---
-
Need a more powerful ZFS-based storage software?
Try Open-E JovianDSS!
-
For those who are looking for a ZFS-based data storage software - Open-E JovianDSS is the choice for your business! This product offers unlimited options to architect data storage environments with iSCSI, Fibre Channel and NFS, SMB (CIFS) client protocols. The built-in On- and Off-site Data Protection feature provides a strategy for Backup and Disaster Recovery while Active-Active Failover Cluster functionality ensuress a flawless maintenance of your business.
-
Test the software with a fully functional 60-day Trial version, download it here >>