Open-E JovianDSS - General information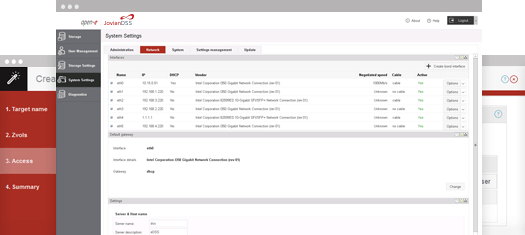 Software defined Enterprise Storage - Easy and reliable
Open-E JovianDSS is a ZFS- and Linux-based Data Storage Software designed especially for enterprise-sized storage environments. With its unique features, the product ensures highest data reliability and integrity. It addresses the needs of enterprise users seeking a unified NAS and SAN solution with thin provisioning, compression and deduplication.

Available exclusively via Open-E's selected Partners
The software, as well as all related licenses and support products, are only available through Open-E's most experienced partners. Each partner offers specially trained staff: JovianDSS Certified Engineers. With this strategy, we can ensure that customers are supported on every step of the way: from the initial installation to daily business.

Open-E JovianDSS Certified Servers
Open-E JovianDSS delivers Software Defined Storage which results in a wide variety of different hardware requirements such as performance range, capacity capability, and connectivity. To ensure compatibility and robust storage environments, all selected partners offer storage systems which are tested, benchmarked and certified by Open-E. This way, customers are able to use solutions that require exceptional security and redundancy, without compromising performance.
Browse Open-E Certified Storage Servers
Product brochure
---
Printer-friendly brochure with all information about Open-E JovianDSS.
Download
Notice
Open-E JovianDSS is not compatible with Open-E DSS V6 or V7, as it uses a different file system. Please be aware that for this reason an update is not possible, and make sure to choose your product according to the functionalities you require.
You might also be interested in
---
JovianDSS pricing
Costs for Open-E JovianDSS are plain and simple: License only what you really use.
Learn more
JovianDSS Features and Benefits
Open-E JovianDSS utilizes all features provided by the ZFS technology to the fullest.
Learn more
How to buy Open-E JovianDSS
---
Open-E JovianDSS licenses and support products are only available through Open-E's selected partners.
Find a partner
Subscribe to our Newsletter