Open-E DSS
End of Life: 31st May 2010
End of Technical Support: 31st May 2011
Open-E Data Storage Server is an all-in-one IP-Storage OS offering NAS and iSCSI (both target and initiator) functionality in a single operation system combined with excellent price performance value, enhanced management and superior reliability to organizations of all sizes.
Open-E DSS includes NAS and iSCSI functionality such as:
Support for a wide variety of hardware RAID platforms
iSCSI Initiator / iSCSI Target
New Update System
Volume Replication
Multiple Network Interface Card (NIC) support
Adaptive Load Balancing (ALB)
Adapter Fault Tolerance (AFT)
Task Mechanism with Scheduling
Backup Utility
Network UPS Support
Fibre Channel Support
Multi-CPU Support
IP-SEC
Hardware Requirements
x86 - compatible PC
1 GByte RAM
CPU (1 GHz Pentium IV or faster are recommended)
HDD (SATA, SAS, SCSI, ATA) / RAID / Fibre Channel / iSCSI Storage
Network Interface Card (multicards 1Gb/s recomended for bonding)
Internal USB
New functionalities implemented in our DSS makes our solution the most flexible on the market, allowing you to combine NAS systems with iSCSI SAN systems, offering online Antivirus protection, teaming of multiple Network Interface Controllers.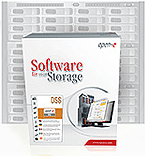 Administration
---
Powerful and Intuitive Web-based User Interface
The web-based Graphical User Interface (GUI) of the Open-E Data Storage Server (DSS) software makes remote management of the storage device a simple task. By using a web-browser, the DSS can be easily managed from anywhere within the network.
Secured Administration Access
Open-E's DSS is accessible and configured through a web-based, password-protected GUI over Secured Socket Layer (SSL) administration access.
Console Tool
Open-E's DSS can be managed by using the console tool. For security reasons some advanced and critical administrator tasks like "removing and restoring volumes" and "checking and repairing the file system", can only be managed from the console. Through the console tool, an administrator monitors the status of the network and memory usage, install drivers and hardware and perform other tasks.
Tuning Tools (advanced users)
The server performance of the DSS server can be increased by changing the settings of disk, network, file system or network using "Tuning Tools".
Remote Access of Console Tool
The Open-E DSS supports remote access of the console tool enabling management of the server from anywhere in the network.
Multiple Management Levels
The Open-E DSS supports three levels of administrative rights: Full Access, Maintenance and Administration.
New Update System (Local or Internet)
Update downtime is reduced with the new Update System feature in addition to making it possible to reboot from the old system.
Network Management
---
Standard Network Gateway Support
The Open-E DSS can be used with structured networks in business environments and has an optional data access via Intranet or Internet.
DHCP Client
Assigning IP addresses in a network can be centrally managed and automated through using Dynamic Host Configuration Protocol (DHCP).
Multiple Network Interface Card (NIC) Support
The Open-E DSS supports usage of two or more network cards to access separate sub-networks or to increase the bandwidth and allows administrators to select services to be enabled on a specified NIC.
Adapter Fault Tolerance (AFT)
AFT assures greater reliability by providing a secondary network adapter which automatically takes over, should the primary network adapter fails.
Adaptive Load Balancing (ALB)
ALB enhances data throughput by automatically routing data through alternative paths as the application changes.
10 Gb Ethernet with TCP/IP Offload Engine (TOE)
To improve the data throughput and latency, the Data Storage Server supports 10 GbE to increase bandwidth, improve overall performance, and reduce message latency across connections. The Open-E DSS supports some 10GbE cards with TCP/IP.
InfiniBand Support
Open-E supports InfiniBand cards that increase bandwidth, improved overall performance, and reduced message latency across connections.
Proxy Settings
The Open-E software allows the configuration of the Proxy Server for Internet connections.
IP-Sec
The Open-E DSS supports the Secure Internet Protocol (IPsec). This protocol secures data transmitted across a network, preventing confidential and personal information being intercepted or modified.
Storage Management
---
Hardware and Software iSCSI Initiator
Open-E DSS supports hardware iSCSI Initiators and has a software iSCSI Initiator for easily expanding the storage capacity of the NAS server. New units and logical volumes can be added by connecting an iSCSI storage system to the NAS server.
Hardware and Software Redundant Array of Inexpensive Disks (RAID) Support
The Open-E DSS supports Serial Attached SCSI (SAS), SCSI, Serial ATA and IDE controllers of all leading hardware RAID controller manufacturers. The integrated software RAID 0, 1, 5, 6 provides more flexibility and cost savings while creating storage solutions. By mirroring two hardware RAID arrays, the probability of failure can be reduced. The DSS offers highest flexibility in redundancy, performance, costs and storage volume.
Software RAID Degraded Mode
The DSS software boasts a means for creating a RAID when a Hard Disk Drives (HDD) is missing or broken.
E-mail Notification for RAID Issues
Email alerts are sent to the system administrator in case of issues with the RAID through the DSS software.
Self-Monitoring, Analysis and Reporting Technology (S.M.A.R.T.) Support
The DSS software includes S.M.A.R.T support for detecting and reporting the status of the Hard Disk Drives (HDD) anticipated on failures.
E-mail Notification for S.M.A.R.T.
Email alerts are sent to the system administrator in case of HDD problems through the DSS software.
Multiple Fiber Channel HBA Support
For higher bandwidth, better latency and performance, the Open-E DSS version supports Fiber Channel HBA´s from Emulex, Qlogic and LSI. Fiber Channel is the standard connection type for connecting high speed storage devices much like the DSS, to computers in Storage Area Networks (SAN).
Hardware RAID Controller Support
The Open-E DSS solution can support most hardware ATA / SATA / SCSI RAID controllers of:
3ware
Adaptec
Areca
Buslogic
Dell
HighPoint
HP Smart Array
ICP Vortex
Intel
LSI Logic
Marvell
Promise
Symbios/LSILogic
Tekram
Support for over 2TB Physical and Logical Volumes (LV)
The Open-E DSS supports logical volumes greater than 2TB and a physical size of up to 16TB.
Snapshot
Snapshot is an immediate point-in-time image of the logical volume. The snapshot image can be used for both consistent and temporary backup, while users still have uninterrupted and complete access to the LV. Files can be recovered from previous snapshots should a file be accidentally deleted or modified.
Multiple Snapshots with Scheduling Function
The Open-E DSS supports "Multiple Snapshot with Scheduling" to create snapshots at predefined points in time (e.g. automatically every hour).
Multiple Logical Volume & Groups
Logical volume groups allow storage administrators to create logical storage pools that span multiple physical disk drives. With it's support of multiple logical volume groups, the Open-E DSS makes it easier to meet the changing needs of users and applications while making the maximum use of available physical disk space.
Online Logical Volume Expansion
Online logical volume expansion allows administrators to change the size of storage volumes as needed without having to restart the application, recreate the volume, and back up and restore data to the volume.
Support for Online Capacity Expansion
A hardware RAID controllers' expansion capability supports the increase of size of existing units without removing data.
Monitoring
---
Hardware Monitoring
Open-E DSS monitors hardware status such as temperature, voltage and fan speed provided by the motherboard's sensors.
Simple Network Management Protocol (SNMP) (v2 & v3)
The DSS uses SNMP for monitoring data throughput, Central Processing Unit (CPU) and Random Access Memory (RAM) usage to name a few.
Email Notification
In the event of a technical failure of the storage device, administrators are alerted by Email.
Log Function
The Open-E log file is an effective instrument in analyzing and solving technical issues.
Hardware Support
Support for up to 32 x CPUs
The DSS supports up to 32 CPUs to increase the I/O throughput for heavy duty data requirements.
Uninterruptible Power Supply (UPS) Support
A UPS eliminates the effects of a temporary power outage and provides a safe shutdown, without loss of data, in case of power failure. The UPS device can be connected by Communications Port (COM-port) or Universal Serial Bus (USB) to the server.
Network UPS Support
The DSS is capable of using the Simple Network Management Protocol (SNMP) interface for communication with other SNMP-enabled servers (e.g. Open-E DSS) for a smooth server shutdown in the event of a power failure. The server with the UPS sends a power failure signal through the network to other servers (in slave mode) and will shut down all servers in the network.
Specific Network Attached Storage (NAS) Functionality
---
Windows Active Directory / Primary Domain Controller Support
Open-E DSS supports Windows Active Directory (AD), Primary Domain Controller (PDC), Lightweight Directory Access Protocol (LDAP) and AD & NIS User-/Group ID synchronization to leverage information about users, groups, systems and other resources stored in the Active Directory. The support of Access Control List (ACL) ensures that access rights of users are automatically taken over from the Domain.
Support for Network Information Service (NIS)
The Open-E DSS supports NIS for easier and consistent access of information stored on any other data storage server using NIS directory service protocol by enabling distribution of system configuration data such as user and host names between computers on a computer network.
File System with Journaling Support
Journaling support makes the file system more reliable and allows easier, faster recovery from unexpected shutdowns.
User and Group Quota Control
Administrators can control users with large disk requirements by assigning a dedicated share or by restricting their individual usage through individual user quotas or to assign a quota to a group to which the user belongs.
Antivirus (server's shares scanning)
Open-E DSS has an integrated Antivirus software tool for scanning shares on viruses at predefined points in time. The Virus Definition Database can be updated and is stored on the NAS device.
Antivirus (online scanning)
The Data Storage Server also supports online scanning of files transferred via the SMB and FTP protocol.
USB Storage Support for Dynamic Disk
USB Units connected to DSS can be used as a Dynamic Units – which can be easily used for local backups.
Backup-Agents (Veritas, EMC Dantz, CA BrightStor) Support
Open-E DSS backup agents help administrators to backup and protect data on NAS servers with backup software from Veritas, Dantz, or CA BrightStor ARCserve thus improving data transfer, network security and real-time directory browsing, monitoring tasks and supporting cross-platform backup support.
Supported Network Clients and Network File Protocol
Open-E DSS supports the file based protocols CIFS (Common Internet File System)/SMB, NFS (Network File System), FTP (File Transfer Protocol), FTPS and Apple Talk enabling Windows, Linux, Unix and MacIntosh clients to share data on the same server.
External Lightweight Directory Access Protocol (LDAP)
The Open-E DSS supports external LDAP enabling administrators to configure and manage multiple data storage servers from one single point (either an Open-E server with a LDAP database or any other LDAP server).
Specific iSCSI Functionality
---
Multiple Challenge Handshake Authentication Protocols (CHAP) per Target
In Open-E DSS, CHAP users can be assigned to a specific iSCSI target. CHAP is an authentication schema, managed by user name and password, to validate the identity of users to manage the access rights of users to targets.
MPIO Support
The Open-E DSS allows set multiple connections to one target increasing performance and reliability.
Volume Replication
Data is safe thanks to the Open-E volume replication feature creating an exact copy of source volume in real time. In the event of volume disaster, data on destination volume remains intact.
Backup Utility
---
Task Mechanism with Scheduling
Management of all the tasks is much easier and convenient using the unified task mechanism with scheduling for data and volume replication, backup and snapshot. Tasks are scheduled as to when to activate and may have many schedules.
Virtual Tapes
Configure tape drive emulation on share or Dynamic Volume (e.g. dynamically attached hard drive) backup for tape drives is the same as backup on virtual tapes.
Tape Library Support
Make backups with use of tape drive libraries.
Internal Database
Maintain all backup files including backup history.
Tape Retention Time
Set schedule for tapes to be rewritten for new backup.
Other
---
SWAP Support
SWAP is used to store memory areas on hard drives instead of Random Access Memory (RAM). The DSS software dumps memory to SWAP in case of additional memory is need (e.g. repairing the file system after a degraded RAID).
Liquid Crystal Display (LCD) Panel Support
Open-E DSS supports single, dual, multiple or pyramid LCD display configuration.
One License per Storage Device
Regardless of the number of users connected to the storage device, Open-E license schema is a one license per DSS and is priced accordingly. Whether you have 5, 500, 15,000 or more, you only pay one price for one Data Storage Server License.
Superuser Function
A "Superuser" account has unrestricted access to all the files and volumes and is an especially helpful feature when certain directories or files are no longer accessible.
Local Backup on Dynamic Units
Through the DDS, a local HDD or a USB drive can be defined as a Dynamic Unit and acts like a normal tape drive which can backup the NAS server and be removed without shutting down the server.
Cross Data Synchronization
Open-E DSS synchronize files and directories from one NAS server to another. Disaster recovery or Disk-to-Disk backup synchronization utilizes block-based data transfer that minimizes network traffic. DSS can synchronize data in both directions: the DSS can be the source and destination of files at the same time, allowing to cross-backup data on several servers.
Target Password Support
Open-E DSS allows set up password for iSCSI targets to protect them from unauthorized access.
Read Only Logical Unit Number (LUN)
This function allows the user to set the LUN as a read-only device (for iSCSI Target only).