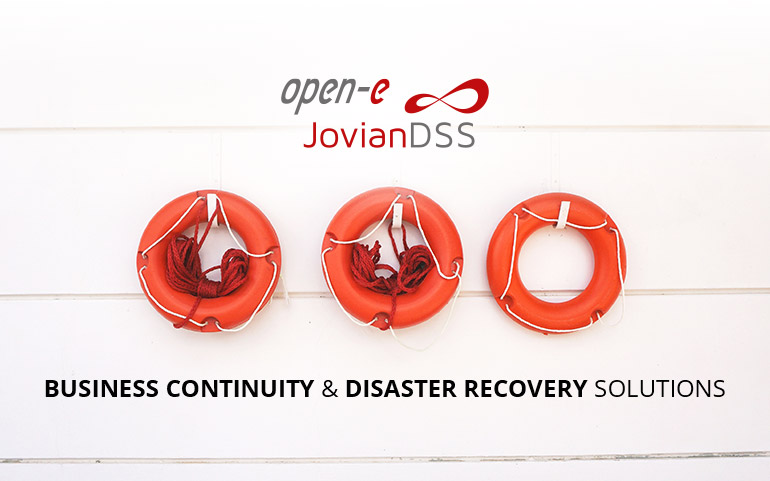 Imagine the life of a company or an organization with all its commercial and operational activities. In order to safeguard all the aspects of the business, it is essential to ensure data availability and its security. However, nobody can predict unfortunate events, such as fire, a ransomware attack, or a natural disaster that can cause a tragic data loss. It appears to be the exact moment when a business continuity plan comes to the rescue.
What is Business Continuity?
Business continuity is a plan in the risk management aspect, which helps you understand how the essential organizational functions should be controlled or recovered no matter what happens. Such a plan gives you a complete picture of any emergency that can occur so you could prepare your company to operate at least on a basic level during potential disruptions.
There are three core strategic elements (3R) in each business continuity plan:
Resilience

Response

Recovery
Resilience strategy is required to reveal the weak spots in the business system and take measures before any disaster may take place. In this strategy step, you have to analyze the organizational environment to prioritize further actions. The resilience strategy requires the consideration of all possible storage backup options, including local and remote ones.
Response strategy appears to be an essential part of business continuity as it gives an emergency plan of how each department should act if any kind of unexpected event happens. This strategy part should also include instructions on how to behave in case of regular maintenance of the IT infrastructure.
Recovery strategy helps to build up a proper plan or a scenario for returning to the 100% operational workflow level after any disaster or unexpected event which can arise. Depending on the type and the size of a business organization, the recovery strategy can be divided into several options, like utilizing backup infrastructure, appliances or facilities, restoring regular work with the internal resources, or with the external service providers' support.  
Business Continuity or Disaster Recovery?
Some people believe that business continuity equates to disaster recovery. In fact, disaster recovery is supposed to be considered a subset of business continuity, covering the whole IT infrastructure. In simple words, a Business Continuity plan should cover all the aspects of both regular maintenance and disaster recovery, to protect the business against disruptions.   Moreover, a disaster recovery plan is not only being formed by emergency procedures but also contain distinctive components:
Critical IT assets.

Specific tools and technologies used for the recovery.

A disaster recovery team.

External recovery service providers (e.g., data recovery companies).
In today's strongly digitalized world, the Business Continuity strategy is firmly focused on protecting and recovering data. Therefore, to support the business continuity plan, you need to consider the use of a secure data storage solution.
The Role of Data Storage Solutions in Business Continuity
Regardless of the type of business, most modern organizations produce and work with a large amount of any kind of data, which must be maintained appropriately. That is why the acquisition of a proven data storage solution should sound to you like a good plan. For example, the Open-E JovianDSS storage solution supports such functionalities as self-healing, check-summing, atomic transactions, and more, which can significantly improve the safety of the whole system. The system's self-healing will automatically compare the data you work with by calculating checksums with the ones located on the metadata and, if any damages are detected, remediate the corrupted data without anyone's intervention.
The next aspect to be specified about data protection in the business continuity strategy is that it can be used not only in disaster situations but also for scheduled events as updates or hardware maintenance. So, if you plan to update the system or struggle with a damaged disk, the failover cluster functionality of the data storage solution can assist you. The task of this function is to seamlessly redirect the data flow from this system to the backup one, which mimics the operating system environment. 
And what if a disaster eventually happens? In such situation, there are several solution options on different levels:
The data can be rollbacked from the

snapshot from the production server

(in case of a ransomware attack, when the server is encrypted, snapshots remain operational since they are read-only).

With the Open-E JovianDSS High Availability cluster, the second node takes over the work of the damaged primary one (in case of hardware failure).

With On- & Off-site Data Protection, the data can be instantly accessed or restored from a local or remote backup server when the primary one is damaged. 
Data Loss Consequences 
The usage of data storage solutions can prevent tragic losses on salaries and revenues, which can appear due to data unavailability. These losses can be calculated in such way:
Losses on salaries:
An empty-handed employee still must be paid,

Each hour paid when there's no access to the data and no work can be done is a loss.
Losses on revenue:
When there's no data available and the company cannot operate – there are no revenues generated during that time.

By taking total yearly revenue, you can average how much money the company generates through sales each hour.

Each hour without access to the data and work that can be done is a loss (lost opportunity).

If you are a web service provider, the data unavailability may lead to penalties.
With the help of Open-E JovianDSS data storage solutions that ensure data reliability and redundancy through Zettabyte file system, failover cluster function and On- & Off-site Data Protection, you can build even more sophisticated Business Continuity strategy and Disaster Recovery plan to protect your company against the consequences of unexpected events and regular maintenance downtimes.  
Leave a Reply