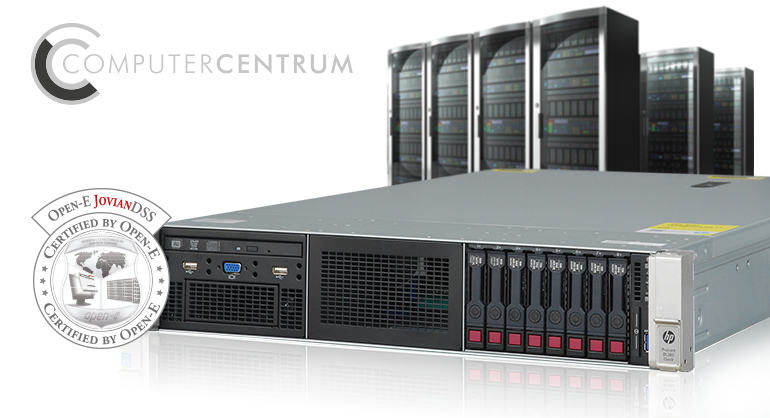 In today's article we would like to present you a new storage solution with the proven Open-E JovianDSS Software Defined Storage – the CC Storageline 380 G9 by ComputerCentrum. The hardware is tested and benchmarked by Open-E to enable enterprises to utilize software-defined storage in their IT environments.
About CC Storageline 380 G9 with Open-E JovianDSS
CC Storageline 380 G9 based on Open-E JovianDSS enables companies to implement Software Defined Storage and virtualization in their IT environments. It is a type of solution that is dedicated especially for the SMB sector, delivering continuous availability, high performance and simplified management. It is suitable for VDI, backup, Microsoft/SQL servers and databases.
As the data management market grows continually and having absolute control over your business is getting more and more important, also the requirements for I/O performance are growing. In CC Storageline 380 G9 you will find SSD caching while typical SAS HDDs are quickly overexerted because they have much lower I/O per second when compared to SSDs. As full-SSD storage systems have lower capacity and are at the same time very expensive, this solution offers SSD caching, thanks to which organizations can combine advantages of SSDs (high I/O performance and low latency) with HDDs (high capacity) in one system. This means CC Storageline 380 G9 is able to adapt to different customer needs.
What is more, ComputerCentrum provides professional support with Open-E JovianDSS Certified Engineers. During all projects they cooperate closely with customers: starting from first deployment to project finalization. The partnership of ComputerCentrum and Open-E helps customers to achieve their demanding storage goals.
All in all, with CC Storageline 3080 G9 based on Open-E JovianDSS companies can benefit from:
Guaranteed data protection
Enhanced storage performance
Flexible scalability
Simplified management
Data integrity check
In-line data deduplication
Tiered RAM and SSD Cache
Unlimited number of snapshots and clones
More details and specifications can be found in the Certification Report >>
About Open-E JovianDSS Storage Server Certification
Open-E JovianDSS delivers software-defined storage which results in a variety of different hardware requirements such as performance range, capacity capability, and connectivity. To ensure compatibility and robust storage environments, Open-E partners are having their hardware tested, benchmarked and certified in our laboratories.
Systems certified by Open-E are suitable for all storage applications. Since they have different equipment and configurations, they perform even better in specific setups. Open-E Certified Storage Servers have their hardware properly recognized and supported, all services and protocols work stable and with good performance. Depending on configuration details they perform exceptionally well in one or more specific usage scenarios.
Thanks to this kind of policy, customers are able to use solutions that require exceptional security and redundancy, without compromising performance. If you are an Open-E partner and you want to certify your server – apply here.
About ComputerCentrum
ComputerCentrum was founded in 1999 as a modern and future- driven company. Today, ComputerCentrum operates from the new location at Hüllhorst, Germany with a qualified sales and service team. As a corporation for IT and information technology we are supporting our business partners in regards to technical as well as commercial matters. Professional and individual consulting, solution-oriented services, delivery of efficient solutions and reliable maintenance of your IT environment is our basis for a trustful and close collaboration.
Leave a Reply