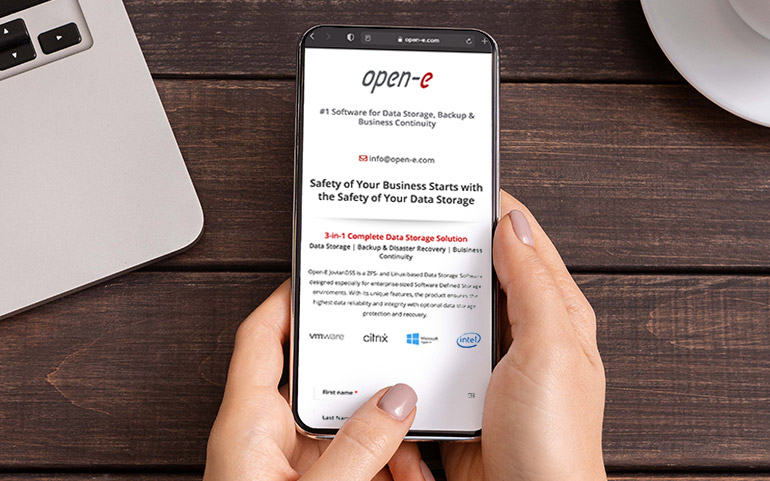 Last update: April 22, 2022
Modern smartphones, having a computing power of desktops PCs from mid-2000s, are much more than just phones. Together with their younger siblings – tablets – they essentially became Personal Computers to the degree old-fashioned desktops and laptops were never even close.
Although accessing emails from your phone is common now, accessing your company servers and data is a completely different story and it's still relatively rare. With Open-E JovianDSS or Open-E DSS V7 and any Android phone or tablet, you can easily and securely access all data on your NAS shares over SMB protocol.
Requirements
This article assumes you are familiar with Open-E JovianDSS or DSS V7 and you can create and configure NAS shares.
You will need the following to carry on with our instruction:
Open-E JovianDSS or DSS V7 with a NAS share created.
Android device with a file manager supporting SMB protocol. We use Total Commander in our example but there are other suitable as well, such as Astro File Manager.
Access to the relevant LAN network configured on your Android device.
Installing mobile application and plugins
Firstly, we will need to install a File Manager (Total Commander) together with a necessary plugin.
1. In your device, download and install the Total Commander application. In the case of Total Commander we will need an additional plugin to be able to access shares over SMB protocol. To install it, go to Add plugins (download).
2. Download and install the LAN (Windows network) Plugin (second option):
Connecting to your NAS share
Once installed, you can configure access to a new server in your mobile device.
1. Tap the LAN (Windows shares) option:
2. Tap <New server> to add your NAS server details:
3. Select a name for the New server connection:
4. Provide the name of your server (or IP) followed by the name of a relevant share.
If your NAS share requires password authentication (see SMB settings of your Open-E software) you will need to provide it here:
You can also browse through all shares on your NAS server – simply provide a server name (or IP) without specifying a particular share folder name.
5. If anyone can access your NAS share (Guest option), leave the User name and Password fields blank.
6. You should then be able to access the content of your NAS share.
Try Open-E JovianDSS or DSS V7 for free and download your 60 day Trial version now!
The names of actual companies and products mentioned herein may be the trademarks of their respective owners.
Leave a Reply