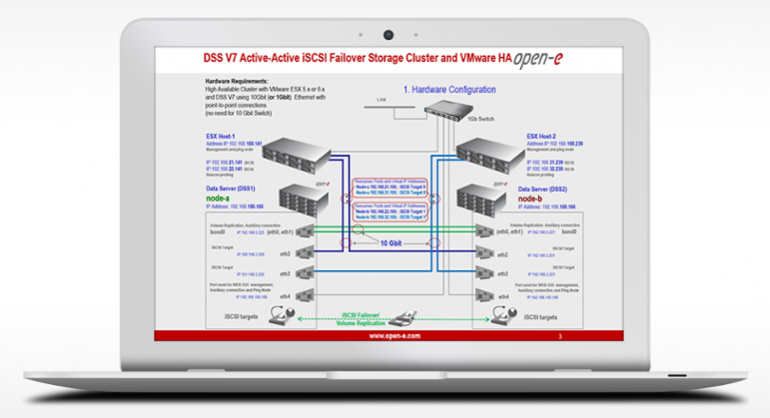 Our QA team recently prepared a new step-by-step guide for you. Now you can easily configure a switchless setup with the Open-E DSS V7 Active-Active iSCSI Failover Storage Cluster and VMware.
About iSCSI (SAN) Active-Active Failover
Active-Active iSCSi Failover is a feature that enables you to simultaneously run volumes in the active mode on two nodes. In case one node fails, the other one takes over automatically all application services. What is important, Active-Active Automatic Failover for iSCSI is a crucial Data Storage functionality, often used for:
High Availability
Storage for Virtualization
Business Continuity
Open-E DSS V7 Active-Active Cluster
The Open-E DSS V7 Active-Active cluster increases the overall performance, if set up properly. With it users can eliminate any Single Point of Failure, utilize all processing power and speed up networking connectivity – since I/O traffic is equally balanced on two nodes. It's a cost-effective solution that is easy to deploy and manage.
VMware HA clusters
Open-E DSS V7 is VMware Ready and certified for the latest versions of VMware vSphere® 5.5 and 6.0 for production environments. With Open-E DSS V7 you can easily create VMware HA clusters.
Switchless setup

If you wish to create a two-node switchless Active-Active iSCSI Cluster, our helpful how-to document will guide you through the configuration process. The steps are as follows:
Configuring hardware and network
Setting up nodes and creating targets
Configuring the failover and starting the failover service
Creating the VMware HA cluster and adding hosts
Configuring networking and storage adapters
Reconfiguring vSphere HA
Clearing the alarms of the cluster
The key point of this solution is Beacon Probing, which is a network failover detection mechanism, that sends out and listens for beacon probes on all the NICs in the setup. It then uses this information to determine link failure. Thanks to Beacon probing the switch is not necessary.
Leave a Reply