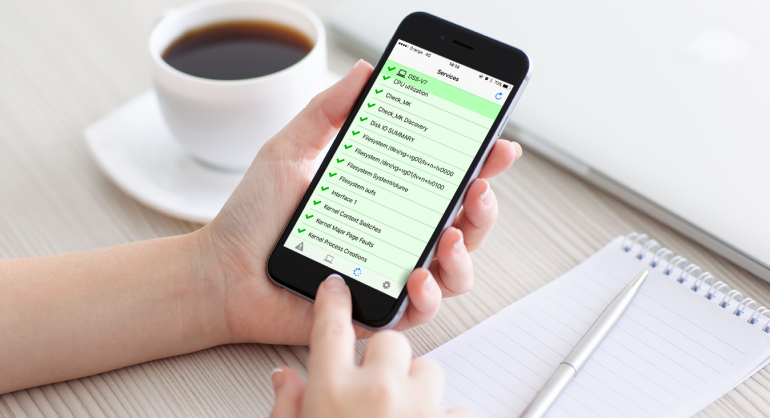 Did you know that you can monitor your Open-E JovianDSS status from your mobile device?
Of course you can! Thanks to applications for Nagios you can check your system status wherever you are. It is very important to have tools that enable a remote monitoring so as not to waste your valuable time for daily software maintenance. All you need is a smartphone in your pocket.
It's extremely easy and thanks to a mobile access to Nagios you can monitor all your Open-E JovianDSS systems from any place in the world. It means that not only are you immediately notified about any issues with your Open-E JovianDSS systems, but Nagios is configured to monitor critical IT infrastructure components like network, storage, applications and services. All these data can be conveniently displayed on your smartphone, and you can quickly respond to an alert and resolve problems immediately, even when you're not in the office. There are two applications which enable an easy monitoring with Nagios on your mobile device.
For Android users
If you are using an Android phone, you need to download the aNag Android application for Nagios. aNag automatically connects with your already configured Nagios system. The application can be downloaded for free from the Google Play app store, and there is no need to invest in additional monitoring infrastructures. The only data necessary to connect to it is the Nagios Cgi URL, a username and a password. The application has default settings and starts working immediately after logging in. What is more, the HTTPS protocol provides a secure connection, and the aNag application is only receiving the Nagios status information – no other sensitive data can be seen.
For iOS users
If you are an iOS user, you can go to the Apple AppStore to download and install MobiosPush which will also automatically connect with your already configured Nagios system. With simple additional configuration changes you will receive instant push notifications. The application is available at a reasonable price (currently less than 3 EUR), and similar to aNag, the only data you need to connect is the Nagios Cgi URL, username and password. The application has default settings and starts working right away.
Both aNag and MobiosPush enable you to view the list of all system instances on the application's main screen and to check the detailed system status anytime. All notification messages appear on notification screens. Moreover, you can configure a rich set of additional options and settings in order to make the tool suited exactly to your individual needs. Software monitoring has never been easier!
For more information about Nagios and Nagios-related technology with solutions, read the article "Monitoring Open-E DSS V7 and Open-E JovianDSS with Check_MK". The article contains a useful mini-dictionary of the most important terms, plenty of screenshots and a video showing how to monitor your Open-E software with Check_MK, an extension to Nagios which enables creating a rule-based configuration with Python.
Leave a Reply