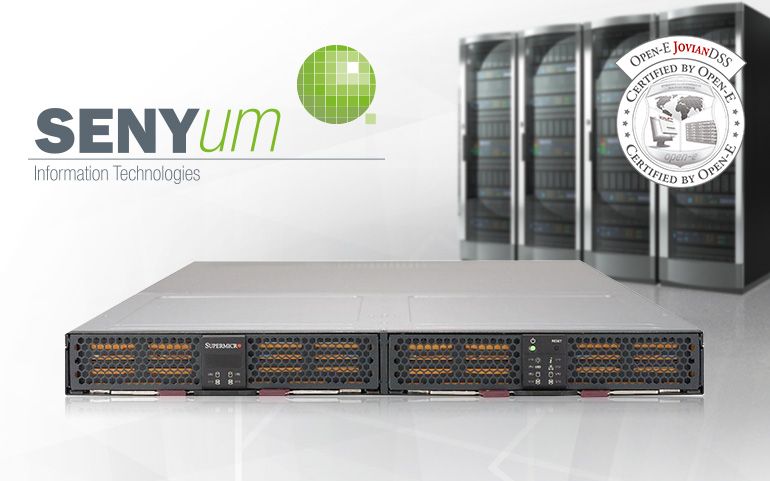 Today, we'd like to introduce you to a high performing storage solution that helped our users to utilize software defined storage in the customer's environment. Meet the SENYUM Supermicro 1U-STR-NVMe, certified for the ZFS-based Open-E JovianDSS. SENYUM is the first and only Open-E Platinum Partner in IBERIA and SENYUM 1U-STR-NVMe powered by  Open-E software is our first certified solution.
Reliable storage solution by SENYUM
With the 1U-STR-NVMe storage appliance SENYUM guarantees a fast, reliable, and compact solution for businesses that require storage designed especially for VDI, databases, or other enviroments demanding the highest performance. The motherboard and the chassis provides the best performance with any configuration as it's been especially designed for NVMe disks. This compact solution can hold up to 32 NVMe on just 1U. Plus, it increases the speed the more discs are added! The combination of Open-E JovianDSS software and SENYUM hardware resulted in creating robust and scalable solution that can be used either as a single node appliance or as a cluster.
The 1U-STR-NVMe appliance can be easily integrated in the network and also it can be accessed via a couple of different protocols, storing critical data and backups. In general, the server offers:
Unlimited numbers of snapshots and clones
Tiered RAM and SSD Cache
Data compression
Data integrity check
Optimization for Data Centers
Flexible scalability
Enhanced storage performance
Optimal resource utilization
To learn more about this certification, visit our website to download the Certification Report.
Download SENYUM Supermicro 1U-STR-NVMe Certification Report >>
Leave a Reply