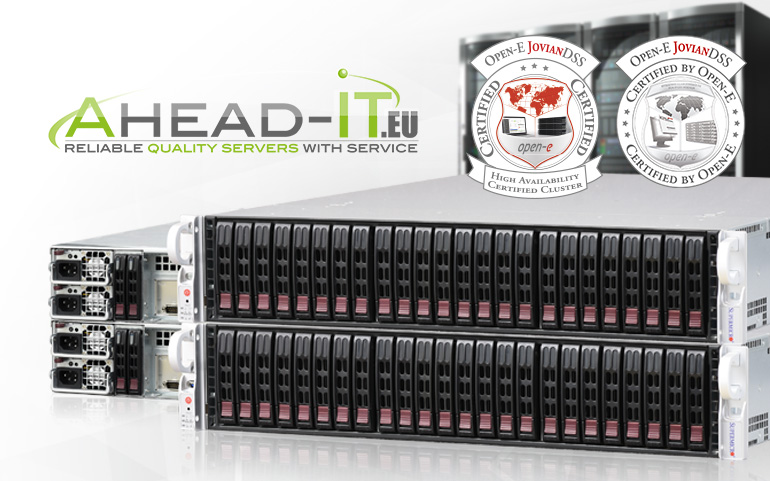 In this article we would like to introduce to you a high performing storage solution that enabled our users to utilize software defined storage in their IT environments. Presented storage solution is based on Open-E JovianDSS Software Defined Storage and the hardware is tested and benchmarked by Open-E specialists. Meet the Ahead-IT.eu Supermicro DIS224A, certified for both High Availability Metro Cluster and Single Node configurations.
Ahead-IT.eu Supermicro DIS224A Single Node
The Supermicro DIS224A storage server with Open-E JoviaDSS Single Node is a 2U high performance and scalable solution optimized for extreme low latency and for users demanding highest speed and best efficiency. The server offers:
Enhanced storage performance
Optimal resource utilization
Flexible scalability
Optimized for Data Centers
Data integrity check
Data compression
Tiered RAM and SSD Cache
Thin, thick and over-provisioning
Ahead-IT.eu Supermicro DIS224A Metro Cluster
Supermicro DIS224A Metro Cluster combined with the ZFS- and Linux-based Open-E JovianDSS data storage software is a full flash High Availability Metro Cluster solution that also offers ultra-low latency which is of great importance in case of disk mirroring or data replication, as well as cloud connections between multiple locations. Apart from the same benefits as the Single node provides, this solution is certified as High Availability Ready. This means that this cluster is a perfect option if you want to deploy a High Availability cluster setup with SMB, NFS or iSCSI for storing business-critical data. The Supermicro DIS224A Metro Cluster ensures reliability and redundancy through failover in case of a failure.
If you wish to get some more detailed info about both Certifications visit our webiste or download the Certification Reposts directly:
Leave a Reply