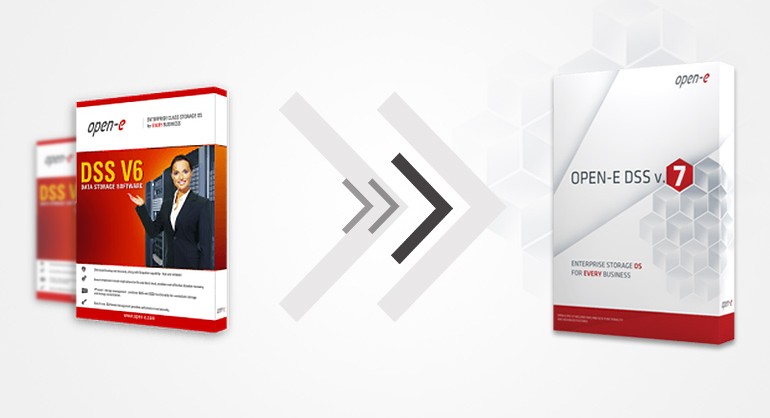 On September 30th, 2015, we will be discontinuing our legacy data storage software – Open-E DSS V6. However, one day later on October 1, 2015, an update for Open-E DSS V7 will be available that includes the main features from version 6.
New, enhanced Open-E DSS V7
The last few months at Open-E have been very busy. As Open-E DSS V6 will reach end-of-life soon, our developers worked hard and created an extensive update, combining the best storage features of  Open-E DSS V6 and Open-E DSS V7 into a single application. This includes the very popular active-passive failover for the file system protocol NFS. After updating, users can use a unified solution where all features of both products are combined and improved. Main features in Open-E DSS V7 up50:
• Active-passive failover for NFS and iSCSI cluster setups included at no extra cost
• Active-active failover for NFS and iSCSI cluster setups (Feature Packs)
• Local backup tool for creating incremental backups to local devices
• Advanced storage cluster management for NFS
• Improved hardware support and kernel
As the EOL date is fast approaching, current Open-E DSS V6 users should plan new storage strategies or schedule downtime if they wish to upgrade to Open-E DSS V7.
Discounts on upgrades and support
Existing Open-E DSS V7 users can download Update up50 free of charge, like any previous update. As for Open-E DSS V6 users, we  prepared a special upgrade promotion. Until September 30th, 2015 Open-E is offering a 25% discount on all Open-E DSS V6 to V7 upgrade licenses. Additionally, customers with a valid support license get a free-of-charge support renewal. As for users with expired support, they can benefit from a 50% discount on technical support reinstatements.
Further information on the update and all discounts can be found on Open-E's website.
Leave a Reply