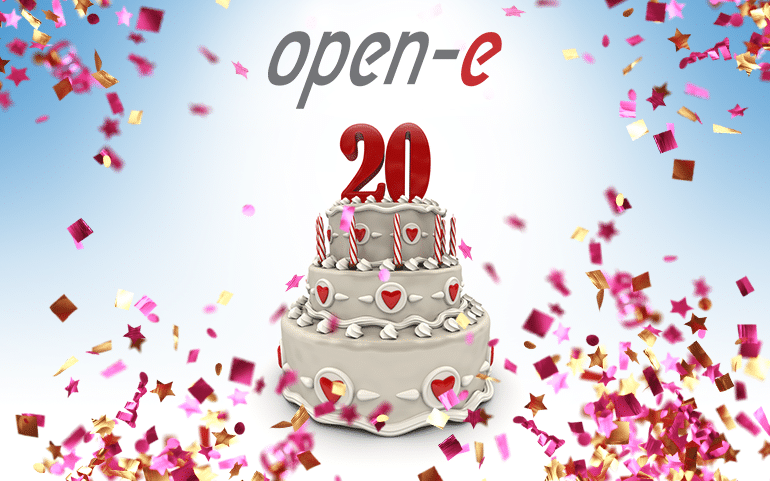 2018 is a very special year for us as it marks the 20th anniversary of Open-E on the storage market.
Over the last twenty years we have never given up on our mission, which is to deliver innovative, affordable, and easy to use enterprise-class storage software for every business. Our dedication, hard work, determination and engagement in constant development led us to over 30,000 software installations world-wide, numerous industry awards and recognition, as well as to creating a widespread network of international partners. It is the reputation, experience and business reliability that has made Open-E the technology partner of choice for industry-leading IT companies.
Open-E's growth story
Open-E was founded on the 9th of September 1998. The headquarter back in those days was in Bremen, Germany and the company was then selling innovative IT products such as Kenwood, Logitech, 3ware / AMCC and others. In 2001 the headquarter was relocated to Puchheim near Munich in Germany, and at that time Open-E started developing its very own storage software.
In 2003, the first Linux-based software Open-E NAS went on sale, successfully leading to our very first US office opening in Redwood City in 2006. In 2007 we opened another branch office in Japan, followed by a relocation of our corporate headquarters to Boston / US in 2008 and the opening of our European headquarters in Poland in the same year. From the launch of Open-E DSS V6 in 2009, then DSS V7 in 2012 and another move of our US headquarters from Boston to Atlanta, we are now not so much changing locations anymore but taking an even stronger focus on improving our software products to the highest degree for our customers.
Open-E products
We've come a long way since 1998, starting out with the first versions of our data storage software first on modules, then on CD-ROMs and now with a simple download on our website. Currently available are Open-E DSS V7 and DSS V7 SOHO as well as Open-E JovianDSS.
Our XFS-based software Open-E DSS V7 is an enterprise storage application which offers excellent compatibility with industry standards (vast variety of supported hardware), and is the easiest to use and manage. Additionally, it is one of the most stable solutions on the market and an undisputed price performance leader.
Our flagship product is Open-E JovianDSS, a robust, award-winning storage application which offers excellent compatibility with industry standards, and is the easiest to use and manage. Additionally, it is of the most stable solutions on the market and undisputed price performance leader. It is the #1 Software for Data Storage, Backup & Business Continuity – a ZFS- and Linux-based data storage software designed especially for enterprise-sized storage environments. It's features ensure data reliability and integrity, addressing the needs of enterprise users seeking a unified SAN solution with thin provisioning, compression and deduplication. Find more info about the software on the Open-E website >>
Open-E on Tech Events
We are trying to be present and active on the IT market and thus we participate in various industry events. We've had a chance to participate in events like CeBIT, VMworld, WorldHostingDays, IBC, NAB, Fujitsu Forum, Intel Channel Conference and more over the years. Here are a few impressions:
Open-E Certified Engineer Trainings
Open-E Partners have an amazing opportunity to get in-depth knowledge of Open-E technologies: they can take part in our Open-E Certified Engineer Trainings which verify the engineer's ability to work efficiently with Open-E software. Since starting those trainings in 2012, we have certified over 400 engineers from all around the world and our training schedules are almost sold out until the end of this year.
Open-E Awards and Prizes
Since the very beginning Open-E's been awarded with numerous prizes. The latest prize we've been honored with is the title of "Data Centre ICT Storage Product of the Year" in the DCS Awards 2018. Here's a list of all the awards, prizes and nominations >>
What's to come?
We are looking forward to a successful future with our loyal customers, reseller network and technology partners. Thank you for your support and trust throughout those first 20 years – the best is yet to come, and we hope you will continue to go this exciting way with us!
Leave a Reply