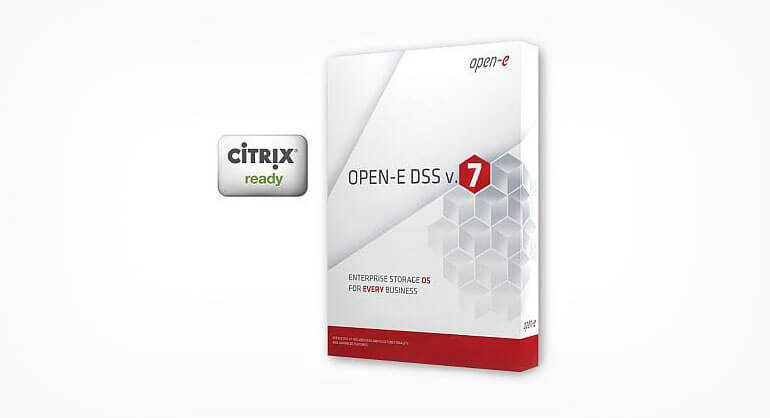 Open-E is happy to announce that its latest software release has received Citrix Ready® verification
The Citrix Ready designation indicates that Open-E DSS V7 completed a rigorous verification process to ensure compatibility with Citrix XenServer, providing confidence in joint solution compatibility, and that the information about our product can be found at https://www.citrix.com/ready/en/open-e/open-e-dss-v7.
The Citrix Ready verification also signifies that Open-E DSS V7 has successfully passed a series of tests established by Citrix, in order to guarantee high-performance, stable and secure storage available through SAN and NAS protocols.
"As a member of the Citrix Ready Program, we are able to offer customers intelligent solutions that combine our Open-E DSS V7 with Citrix XenServer.
The offering clearly demonstrates our plans to work closely with trusted partners, through the Citrix Ready partner ecosystem, in order to provide the highest quality experience for our customers."
Krzysztof Franek, CEO and President of Open-E
The Citrix Ready program identifies verified solutions that are trusted to enhance virtualization, networking and cloud computing solutions from Citrix, including XenDesktop®, XenApp®, XenServer®, NetScaler®. The Citrix Ready designation is awarded to third-party products that have successfully met verification criteria set by Citrix, and gives customers an added confidence in the compatibility of the joint solution offering.
More information about the Citrix Ready program can be found at http://www.citrix.com/ready. Reach Citrix ready using social media via the Citrix Ready blog site and Twitter.
Citrix®, Citrix Ready® and Citrix XenServer® are trademarks of Citrix Systems, Inc. and/or one or more of its subsidiaries, and may be registered in the United States Patent and Trademark Office and in other countries. All other trademarks and registered trademarks are property of their respective owners.
Leave a Reply