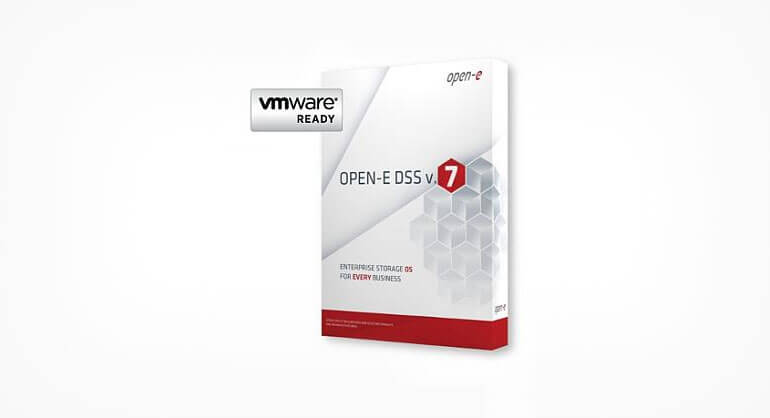 Open-E is happy to announce its latest software release achieved the VMware Ready™ status.
The VMware Ready™ designation indicates that after a detailed validation process Open-E Data Storage Software Version 7 has achieved VMware's highest level of endorsement, and can be found on the VMware Solution Exchange (VSX) at https://solutionexchange.vmware.com/store/products/
open-e-dss-v7-data-storage-software
"We are pleased that Open-E DSS V7 qualifies for the VMware Ready™ logo, signifying to customers that it has met specific VMware integration and interoperability standards and works effectively with VMware cloud infrastructure, which will speed time to value within customer environments." said Sheryl Sage, director, Alliance Programs, VMware.
The VMware Ready program is a co-branding benefit of the Technology Alliance Partner (TAP) program that makes it easy for customers to identify partner products certified to work with VMware cloud infrastructure.
"The certification of Open-E DSS V7 continues our partnership with VMware and proves the effectiveness of our software solution.
By using Open-E DSS V7 with VMware V-Sphere® 5.1 enterprises can easily achieve business continuity and high availability in a virtualized storage environment, thanks to functionalities like the Active-Active iSCSI Failover."
Krzysztof Franek, CEO & President of Open-E
Customers can use these products and solutions to lower project risks and realize cost savings over custom built solutions. With thousands of members worldwide, the VMware TAP program includes best-of-breed technology partners with the shared commitment to bring the best expertise and business solution for each unique customer need.
> Visit Open-E profile on VMware website
VMware and VMware Ready are registered trademarks and/or trademarks of VMware, Inc. in the United States and/or other jurisdictions. The use of the word "partner" or "partnership" does not imply a legal partnership relationship between VMware and any other company.
Leave a Reply