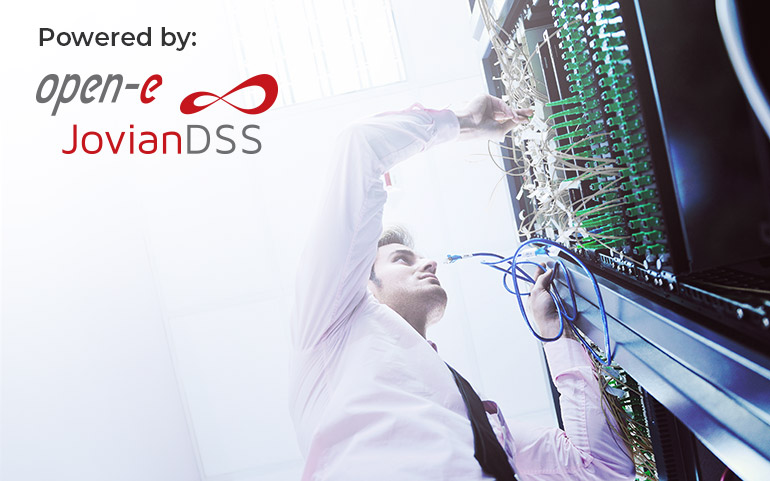 Open-E has partnered with CineSys Inc. to deliver highly performant and scalable NAS solutions in the media and entertainment industry. Since Open-E JovianDSS and enterprise environments are made for each other, the implementation ran smoothly without any issues. On the basis of the gained experience, we have decided to summarize the cooperation with two use cases featured below, to shed more light on the challenges of the clients from the industry.
Use Case 1: Video Archive On-demand
Challenge:
A major network series decided to move a massive video library to newer storage due to the constant failures of their old solution. The failures were caused by the non-standard behavior of their other production tools. Based on these criteria, CineSys wanted to accommodate a better data storage solution that would fit the customer's needs.
Solution:
To resolve this issue, CineSys employed their CineStor NAS Z-Series based on Open-E JovianDSS to handle the new video library. Thanks to the ZFS file system, the chosen data storage could also scale for future needs. Satisfied with the solution, the customer requested to add an additional Petabyte of data storage. After installing the storage extension on-premises, the additional storage was up and running within minutes thanks to the underlying technology of Open-E JovianDSS.
Use Case 2: Movie Studio in Need
Challenge:
The second example is based on a use case of a large movie studio facing a problem of post-production workflow delivery, which occupies massive amounts of storage space due to numerous files and their large sizes. Moreover, the files had to be easily accessible with a low latency level. To handle that, the customer required NAS storage to deliver a post-production workflow based on a new render farm deployment.
Solution:
The new storage solution based on Open-E JovianDSS was the CineSys choice to serve a large farm of customer's workstations without the need for client drivers. The scalability and ability to configure Open-E JovianDSS were a perfect match that helped save the rack space and energy intake in the client's data center.
The Best Solutions for Media & Entertainment Companies
Open-E JovianDSS is a flexible and scalable solution which t is especially useful in handling the needs of the media and entertainment industry. Also, Open-E JovianDSS is a solution that is worth considering if you need a solution that is cost-effective and provides high-performance and advanced data protection mechanisms.
This article was prepared with the help of our partner CineSys Inc. Click to visit Improving demanding workflows with the power of ZFS article.
Leave a Reply