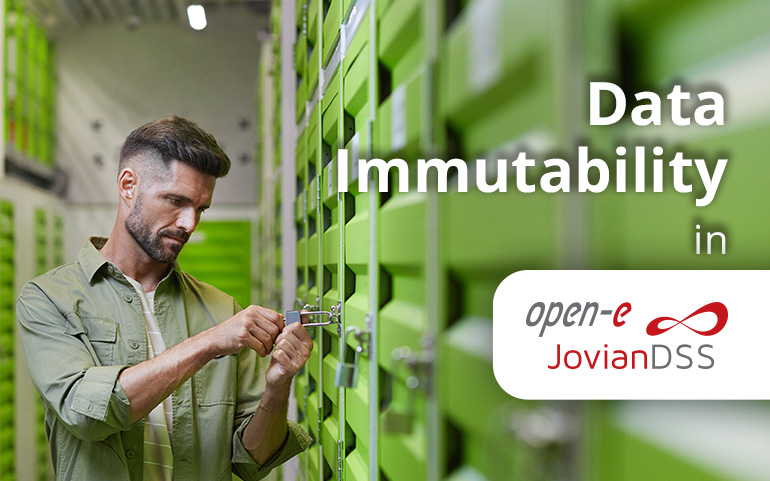 If we talk about data storage solutions, it is not only essential to make the transfer of the data between users and nodes efficient. It should ensure that the data will be stored safely. What do we mean by saying safe storage? Well, safety is not only a matter of avoiding external threats, such as thefts, viruses, etc., but also overwriting of old data, silent data corruption, and others. In modern solutions, there is such an aspect as the immutability of the data, which becomes more and more important. 
Let's start with the definition. Immutable data storage is a system that enables the storage of specific data in a form that can never be tampered with, modified, or removed for a predetermined length of time. It's like you store the data, and it ingrains into your storage. It is essential not only for data storage safety in the case of a human error, deliberate fraud, or a ransomware attack but also to follow government or industry regulations or litigation requirements due to the required data storage duration. 
In Open-E JovianDSS, there are several functionalities and features that build  the system's immutability:
Snapshots

Retention plans

On- and Off-site Data Protection
You may say that there are too many elements required to benefit from the immutability of your data storage. However, those pieces create an opportunity to make this immutability controllable in each and every step of your data creation and archiving. 
Snapshots
A snapshot is a copy of the state of a system at that exact moment (in general, any moment the snapshot is taken). It becomes a great protection of the data due to the read-only format, which cannot be modified. It contains metadata of the data stored (as you know, it can be spread in totally different locations), records the spaces on the disk served for the exact block of data and freezes them in order to prevent any kind of modifications in those areas. Even if a ransomware attack or a human error takes place, you can make a rollback to the latest snapshot before the unfortunate event (or just be verified in the snapshots list), and your data will be available again. To learn more about Open-E JovianDSS snapshots, check out the article we've already prepared before.
The snapshots become the first element of immutability in Open-E JovianDSS. This is the exact functionality that allows the data to "spread the roots" in your system and stay there safe and sound for a long while.
Retention Plans
The retention plans in Open-E JovinaDSS are the next element that builds the data immutability'. Why? Because it allows you to control the previously mentioned snapshots. There is no need to remember to make a manual snapshot every time you make an update to the system. Just set a retention plan that can collect data gradually, for example, after every hour of work, then every day, including the snapshots from each hour of work, and finally, a monthly snapshot of all the previous snapshots in one piece. Moreover, you can set the duration for keeping each snapshot in the data storage, which can depend on the number of changes recorded in the metadata or legal requirements.
This way, the immutability of your data storage can be easily and effectively controlled in order to avoid overloads of the system without any chance of data loss.
On- and Off-site Data Protection
The additional and enterprise-grade feature in Open-E JovianDSS is the On- and Off-site Data Protection. As you may understand from the name itself, it allows storing data in both on- and off-site locations. It gives exceptional value to the aforementioned snapshots and retention plans, as the business-critical data may be stored on the local and remote servers with a special retention plan set for each of them. However, the locally stored snapshots are not backup since they can be lost due to physical server damage (fire, flood, theft). That's why it's crucial to have it stored in an off-site location as well (as a backup).
Ready to try the Open-E JovianDSS to make your data immutable? Download the free trial here!
Leave a Reply