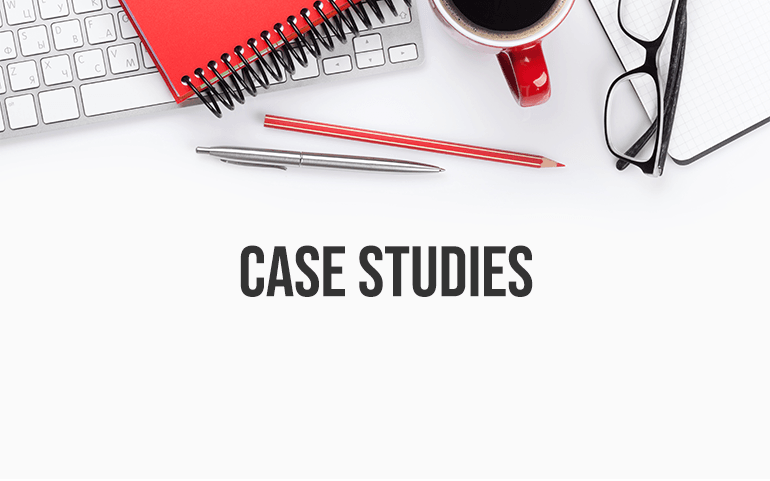 In this article we've collected the most important success stories with our Partners and customers in 2018. In the presented documents we are taking an in-depth look at given projects to illustrate the diverse usage of Open-E products in a variety of setups on different markets.
Of course the article includes only some of the many success stories with Open-E software. For more customer testimonials go to the Case Studies section in the Library on our website.
Manufacturer of diagnostic products replaces existing A-brand storage environment with Open-E DSS V7
HUMAN Gesellschaft für Biochemica und Diagnostica is a manufacturer of high-quality diagnostic reagents and analytical systems. They sell their products worldwide and because of their wide network of customer they required a significant capacity extension and also an update of their storage environment in general. Taking into consideration that increasing thier A-brand infrastructure would mean going far beyond their established budget, thay started looking for a more affordable solution that would at the same time fullfill all their requirements regarding high availability for their virtual machines based on VMware. EUROstor, Open-E Platinum Partner, suggested them to implement a 10 GbE NFS Active-Active Cluster, consisting of two of EUROstor's proven ES-8772 systems with Open-E DSS V7 Data Storage Software and that was exactly what HUMAN needed.
"Thanks to EUROstor and Open-E we now have the perfect replacement for our previous A-brand storage environment: fast, high-performing and cost-efficient. Set it up and it's running – we are absolutely content with it."
Interior manufacturer decides for highly available Stretched Cluster with Open-E JovianDSS
baierl + demmelhumer is a leading manufacturer of fine interior design projects. As they are running their business all over Europe and with over 500 employees at nine locations, they were looking for a failure-resistant and high-performing solution that would unite their various operating systems and applications (e.g. AD/DNS, database servers, ERP systems and more) for more than 300 users. Again EUROstor helped the customer with the task and they offered them a Stretched Cluster based on the ZFS-based storage software Open-E JovianDSS.
"We are absolutely happy with our new High Availability solution from EUROstor. The performance is excellent and Open-E JovianDSS enables us to perform maintenance and updates anytime, without interruptions for users. Due to the fast storage based on SSDs, time-sensitive applications are running smoothly and we have enough HDD storage space left for future growth of our data."
IT support and Cloud provider implements flexible and secure solution for increased performance
Simplicity Tech is an IT support and Cloud techonlogy provider who also has been working with Open-E products since years. Their most critical demand was flexibility, increased storage capacity and most importantly, protection of data stored in their different geographical locations. They have decided for Open-E JovianDSS  as it allowed them to create thin-provisioned storage pools with a minimum amount of hardware initially, plus the storage capacity could be extended whenever such demand occured.
"We are absolutely satisfied with the implementation of the Open-E Cluster solution. Since the migration to the JovianDSS environment we have noted a 50% increase in performance for all the customers that we host. With this solution, we can see the storage growing and rest assured that in case we require more capacity, it will be just a matter of plugging in another storage chassis with an additional storage pool, not risking any downtime."
Download: English
Cloud Computing provider achieves great flexibility and performance with Open-E JovianDSS Metro Cluster
Virtual Computing is a provider of cloud computing services focusiong on small and medium businesses who required the best-in-class data storage solutions for their own use. As they have already been successfully using Open-E' XFS-based DSS V7 Data Storage Software since 2014, they decided to upgrade to the ZFS-based Open-E JovianDSS with no hesitations. They needed a High Availability twin data center storage product with iSCSI in an Active-Active mode and Open-E jovianDSS turned out to be the merfect match.
"Open-E DSS V7 did the job during the first years but as our business requirements were growing we needed even more flexibility than before. The Open-E JovianDSS ZFS-based solution provides us with the demanded flexibility. What is more, thanks to the Metro Cluster setup we can now provide our twin datacenter with high speed SSD storage."
Download: English
Supplier of products for the office sector seeks a high-performing and effortless storage solution with synchronous snapshots
Office Partner is a supplier of equipment for the office sector who had high demands in regards to IO and latency. They also required to have a snapshot created in a certain time lapse, without any loss of performance. Additionally, spanshot were to be kept for up to two weeks and to be automatically deleted after the preestablished deadlines. A Simplicity Tech also had positive experiences with Open-E DSS V7, they were introduced to Open-E JovianDSS as a Shared Storage Metro Cluster with two nodes in an active-passive mode, configured like a local cluster with mirrored JBODs, with Fibre Channel instead of SAS to the JBODs.
"We are very satisfied with both the Open-E DSS-V7 system and the new Open-E JovianDSS. The ZFS-based JovianDSS offers us synchronous data security over two fire compartments with excellent performance. What is more, it has already been tested that a fire compartment can be switched off without any loss in day-to-day business. The memory of the Open-E JovianDSS can be easily extended as needed, which has already been carried out during operation without any disturbance."
Remember that if you're an Open-E Partner and you have a successful project with Open-E JovianDSS that you want to share with the world, send us your project description.
Leave a Reply