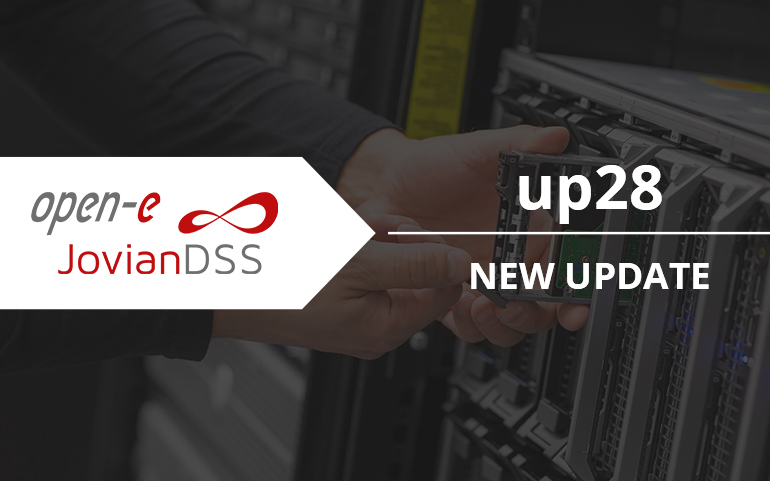 Good news! Fresh from our labs – Open-E JovianDSS update 28 is now available for download. Read the article to learn about the impressive list of new features and fixes that are now included in the software. Download the update and make your daily work with the ZFS- and Linux-based Open-E JovianDSS simpler and more effective than ever.
What's new in up28?
HA Cluster Ring can be now configured as two single connections
High Availability clusters in Open-E JovianDSS consist of two nodes (servers).To configure and start a HA cluster, you must connect those nodes to each other. Until now, this connection was available through two network interfaces that were configured and connected by the Active/Backup bonding. With up28, it will be possible to establish this connection in two ways. The first is bonding, as before. The second way is by configuring two independent interfaces (configured on different subnets) and later using them to connect the nodes that should work as an HA cluster.
HA cluster ping nodes can be configured within any available interfaces and subnetworks
Earlier ping nodes in Open-E JovianDSS were configured on the same subnets as the ring connection (Active/Backup bonding) between cluster nodes. With up28, ping nodes can be configured on a randon subnet that is accesible to Open-E JovianDSS.
Static routing configuration is available in WebGUI
The system decides, based on the routing table, which network interface will be used to transfer packets to target hosts. The static route manager available on the WebGUI allows a user to manually enter and remove the static routes to/from the routing table.The manager allows you to configure static routes to specific subnets or to specific hosts on the network.
Custom SSL/TLS certificates can be now manually imported in WebGUI
The WebGUI in Open-E JovianDSS now enables the import of Custom SSL/TLS certificates. Such certificates are being signed by certificate authorities or are self-generated. The file with the private key and a certificate should be indicated in the appropriate places on the form.
ZFS Datasets can get a record size value from range of 4KiB up to 16MiB (default record size value is 1MiB)
We've extended record size value up to 16MiB to tune the performance even more than previously. The general rule is: bigger record size value should allow bigger bandwidth at the expense of IOPS.
Fibre Channel Target mode is available for ATTO Fiber Channel Adapter (supported only with VMware client)
Fibre Channel Target mode was previously supported for Qlogic cards only. Now it's also available for ATTO FC adapters.
Improved performance of LDAP database replication mechanism
In the event of large LDAP databases for cluster servers, replication of the LDAP database between the cluster nodes took a long time. In up28, thanks to the improved algorithm of the LDAP database replication process, this process has been significantly accelerated.
Storage performance test tool is available in TUI (System console -> Ctrl+Alt+t -> Add-ons -> Storage performance tool)
A tool for testing storage performance is available in TUI. This tool enables running performance tests on raw devices (physical disks connected to the server) or on zvols. The prepared profiles allow for sequential write/read as well as random write/read testing.
HPE tools for managing HP Smart Array controllers are available in WebGUI and TUI
HPE Tools in Open-E JovianDSS enable an easy management of the HPSmart Array series in the software WebGUI.
MacOS Spotlight search support allows to quickly locate the files and search through their contents
This functionality enables a quick file as well as file content search on MacOS.
Installer creates 128GB boot medium partition size (more space for further upgrade processes)
During the Open-E JovianDSS installation process, partition of bigger size (now 128GB) is created which provides more space for storing several versions of the system.
New filtering options for Event Viewer (selection by: error, warning, information, and the date ranges)
There is a bar on the Open-E JovianDSS WebGUI which enables filtering messages displayed by the EventViewer. Users can filter the messages by checking one or more options, e.g."Show errors", "Show warnings", "Show information". Also, it is possible to define the date range so that only messages from a specific period of time are being displayed.
Kdump (kernel crash dumping mechanism)
Kdump is a feature in the Linux kernel that creates crash dumps in the event of a kernel crash. In such a case, it launches dump-capture kernel that allows a user to save logs which otherwise would be lost. It's a new feature expanding debugging and analysis facility.
The default SCSI ID for iSCSI and FC luns can be manually set in WebGUI
When creating a new iSCSI/FC Target on WebGUI, after creating a new zvol that we want to attach to the iSCSI or FC target, it is possible to manually set the SCSI ID field. When adding zvol to an existing iSCSI or FC target, you can also manually set the SCSI ID or you can use the "Generate" button to generate it.
Deduplication statistics for zpool are available in WebGUI
The WebGUI (Storage -> Status) now displays information about the deduplication status, which tells you whether deduplication is active for any zvol or dataset in the system.Deduplication status can be set to Enabled or Disabled. Another information displayed by the WebGUI is the Zpool storage deduplication rate that has been achieved.The higher this ratio is, the more data has been deduplicated.
Ethernet cards detailed statistics (amount of data sent and received) are available in the system logs
The system logs downloaded from Open-E JovianDSS contain detailed statistics for network cards, for example the amount of data sent and received via a specific network interface.
Statistics for MPIO devices are displayed in WebGUI (Diagnostics -> Disk usage)
In the current version of the JovianDSS system, the Diagnostics -> Disks usage tab also displays statistics for MPIO devices. Previously, only statistics for individual devices (hard drives) were displayed.
Linux iostat and S.M.A.R.T data are available in Checkmk monitoring system
Thanks to Checkmk, users can now monitor the hard disks performance more effeciently and accurately through read and through analyzing additional data from the S.M.A.R.T system, as well as thanks to the iostat commands.
That's not all!
Apart from this huge bunch of novelties, you'll also benefit from the range of other updates. Find a list of what's been updated and upgraded:
Samba 4.9.4

Mellanox ConnectX-3 driver (mlx4_core, v4.4-2.0.7)

Mellanox ConnectX-4/5 driver (mlx5_core, v4.4-2.0.7)

Intel 10/40GbE driver i40e (i40e, v2.9.21)

Broadcom BCM5706/5708/5709/5716 driver (bnx2, v2.2.5x)

Broadcom BCM57710/57711/57711E/57712/57712_MF/57800/57800_MF/57810/57810_MF/57840/57840_MF driver (bnx2x, v.1.715.0)

ATTO Celerity 16Gb/32Gb Fibre Channel Adapter driver (celerity16fc, v1.76.0f1)

Microsemi Adaptec RAID and HBA driver (aacraid, v1.2.1.57013src)

Microsemi Adaptec SmartRAID and SmartHBA driver (smartpqi, v1.2.6-015)

Broadcom MegaRAID SAS Driver (megaraid_sas, v07.709.08.00)

Microsemi Adaptec MaxView tool (v3.02-23600)

Areca SAS/SATA RAID Controller Driver (arcmsr, v1.40.0X.10-20181227)

Smartmontools 7.0

VMware tools v10.3.10.10540

Page cache for zvol File I/O mode is reduced to 50%
Read also the Release Notes for more details and download the update still today.
Leave a Reply