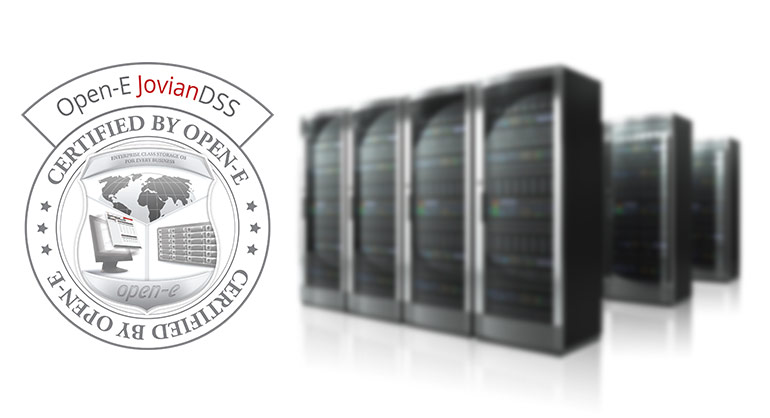 Company data continues to explode and having absolute control over your cloud infrastructure is more critical than ever. Organizations continue to have immense and unique storage requirements yet still a lot of times they are not sure which storage platform is best for them.
That's why today we would like to introduce you to a couple of complete high performing storage platforms that let enterprises utilize software-defined storage in IT environments.
Presented storage solutions are based on the proven Open-E JovianDSS storage software and all hardware is tested and benchmarked by Open-E – for best redundancy and security without compromising performance.
TWP Open-E JovianDSS System
The TWP Open-E JovianDSS System is the perfect storage for Private Cloud. We recommend this easy to deploy solution especially for VDI. In addition to offering enhanced data protection, VDI improves IT efficiency by reducing overall administrative and management tasks. Unlike traditional infrastructures, TWP Open-E JovianDSS System allows for integrating with VMware, Citrix and Microsoft Hyper-V environments.
With TWP Open-E JovianDSS System you won't find yourself locked into proprietary storage platforms that can't be easily expanded or upgraded.
D&D ICT Solutions Pointer Systems Blackney 4 SS
– R710 ZFS Series
This certified solution was designed to exceed in a wide range of configurations and tested with the fastest available high-end components – achieving great stability and high levels of performance. This is not only useful for enterprise environments but can be adapted for high performance VDI, virtualization or more low demanding usages, such as backup or disaster recovery. No matter if you need a top configuration or a base platform, rest assured knowing that this data storage solution can handle your specific workload.
Take advantage of ZFS on Linux architecture and easily manage storage resources with intuitive navigation, predefined profiles and scriptable CLI / API.
Boston Igloo 2U-19T-Stor
The Boston Igloo 2U-19T-Stor is capable of running large workloads delivering high-bandwidth and industry-leading Ethernet connectivity for Enterprise Datacenter, High Performance Computing, and Embedded environments. For greater capacity, the Supermicro chassis is equipped with 24 x 2.5" hot-swap SAS/SATA HDD/SSD bays. A total of 18TB of SAS HDD capacity – for ultra-fast, low power SAS storage.
It is a fully redundant and fault-tolerant solution with unlimited scalability and high performance, addressing the needs of enterprise users looking for a high capacity, unified NAS and SAN system.
Leave a Reply