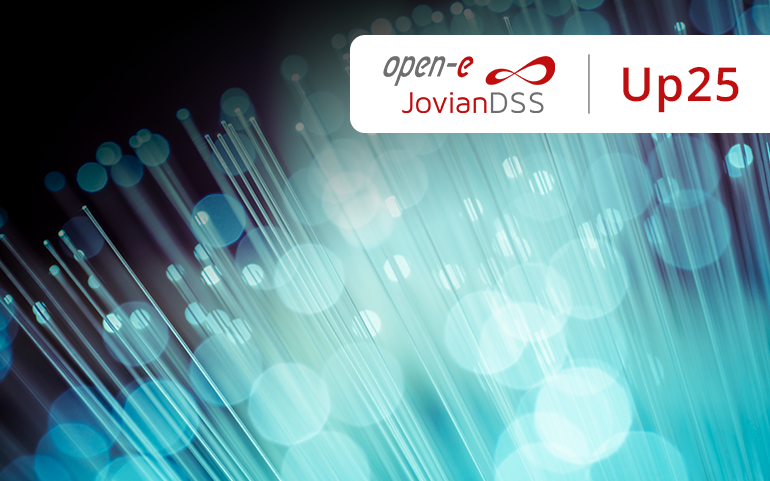 The new update 25 for the ZFS-based Open-E JovianDSS has just been released and is now available on our webiste for download. Read this article to learn about the included features and download the update to benefit from some advanced and brand-new functionalities.
What's new?
In Open-E JovianDSS update 25, our developers have added a set of functionalities and improvements:
– Fibre Channel Target mode in single node configuration and in HA cluster (HA cluster supported only with VMware and Linux clients)
Fibre Channel (FC) is a popular type of connection for high performance SAN Enterprise storage that provides the best throughput and low latency. It enables avoiding collisions and congestion, plus it allows a bigger saturation of the Fibre Channel connection. Open-E JovianDSS used to support the Fibre Channel technology as an Initiator, so that users can connect external FC devices. With up25 it is also possible as a Target, so that you can serve virtual volumes over the FC protocol.  Find more information in the Solution Article or download the handy brochure >>
– Simplified On- & Off-site Data Protection configuration in HA environment (improved configuration exchange between cluster nodes)
This includes configuration facilities for On- and Off-site Data Protection feature regarding nodes in the High Availability cluster. This means that users do not have to repeat the processing of the same data during the configuration as they are automatically propagated to the second node of the cluster.
– On- & Off-site Data Protection support for automatic resume in case of network connection breakdown or low-quality lines
This feature makes the On- and Off-site Data Protection mechanism wait for the connection to return, and continues to replicate from the moment it stopped in case the connection through which the snapshots replicate as part of the On- and Off-site Data Protection mechanism is broken.
– ZFS Force Import option allowing users to import a pool with discarding the last few transactions
This offers the possibility to import a pool with a damaged fragment of data. In case of an error e.g. if the last data are not saved from the memory to the disk, such a pool can still be imported.
– ZFS Datasets Record Size value from a range of 4KiB up to 1MiB
You now have the possibility to set the record size parameter for datasets during the time they are being created. This allows a better dataset matching (and thus, sharing SMB or NFS) for specific applications: a small record size for better IO with random read / write operations, or larger record size for better performance with sequential read / write operations.
– Expanded range of available volume block sizes for zvols (4KiB up to 1MiB)
While creating a zvol in Open-E JovianDSS, only the following volume block sizes were available: 8, 16, 32, 64, 128 (default) KiB. Now, with up25 the volume block sizes have been expanded to: 4, 8, 16, 32, 64, 128 (default), 256, 512 [KiB] and 1 MiB.
– Configuration of critical system errors response policy in GUI and TUI
This functionality allows for a more detailed designation of Open-E JovianDSS's behavior in case of emergency situations, e.g. suspension of some processes for a longer period of time. These options are available in both GUI and in TUI.
– Automatic clearing of errors on disks after resilvering
Resilvering is the process of repairing the data structure in the ZFS system. Now, after resilvering the error counter is deleted in the GUI.
– SMB Trusted Domains support
In Windows Active Directory there might be the "trusted domains" connected to the main domain server. Both the primary domain server and trusted domain servers connected to the primary one can have their very own sets of users. Thanks to this e.g. user management in large organizations can be simplified. Open-E JovianDSS now allows users from trusted domains to access  its SMB resources.
– Software and hardware (IPMI) watchdog for monitoring I/O on ZFS pools in cluster (TUI option)
With this, an additional clustering mechanism has been added that allows an even faster and more efficient response to any type of the system's stability issues. Thanks to this feature an unstable node is immediately being disabled and the second node takes over its resources as soon as an issue occurs.
– Non-Uniform Memory Access (NUMA) support
There is now support in the system (kernel) for a better cooperation of processors in multiprocessor environments. This improvement results in a better efficiency of the entire system.
– VLAN support
Virtual LAN networks are now supported. This allows users to separate some services (iSCSI disks, SMB shares and NFS shares) from each other so they don't affect each other in any way, e.g. they don't take over any transfer or don't block each other simultaneously in case any of them fails, etc.
For the complete list of features, updates and fixes read the Release Notes >>
Leave a Reply