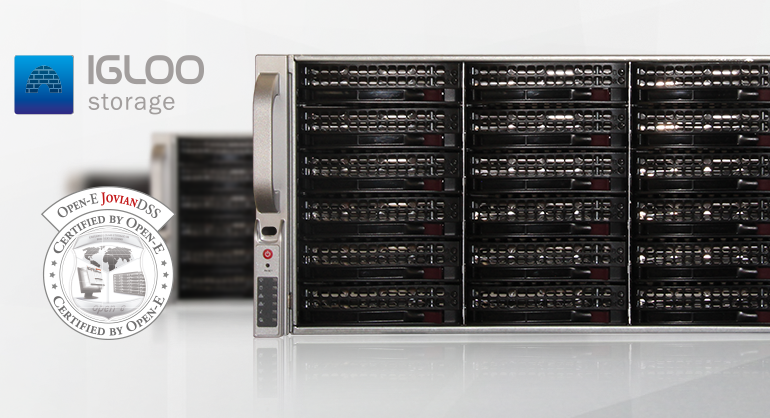 Today we would like to introduce to you another high performing storage solution that enabled our users to utilize software defined storage in their IT environments. Presented storage solution is based on ZFS-based Open-E JovianDSS Software Defined Storage and the hardware is tested and benchmarked by Open-E specialists.
Certified solution for Open-E JovianDSS
Boston Igloo 4U-24T-Stor

Open-E and Boston have joined together to provide a storage solution dedicated especially for the SMB market. The Boston Igloo 4U-24T-Stor based on Open-E JovianDSS Software Defined Storage is reliable and field-proven, at the same time also cost-effective.
Open-E JovianDSS based Boston Igloo 4U-24T-Stor is an innovative Hybrid Storage System that fuses HDDs' capacity with SSDs' performance in a single solution. By leveraging capacity optimization technologies and advanced tiered SSD and RAM caching, the solution provides an overall efficiency boost and increased cache performance, while powerful tuning tools allow the system to optimize on I/O heavy databases or high throughput video editing equally well.
It's a good base system – thanks to a 40GbE network interface card you get the bandwidth and speed required for a high-performing environment. Also, you can choose platinum or titanium power supplies.
Flexible scalability
The Boston Igloo 4U-24T-Stor enables you to experience unlimited flexibility and minimize unappreciated downtime. Open-E JovianDSS uses a 128-bit file system that includes unlimited snapshots for easy backup, unlimited clones for easy duplication, unlimited capacity with volume sizes up to one ZetaByte, as well as unlimited amount of disks.
Optimization for Private Cloud
With Boston Igloo 4U-24T-Stor you get to design your own redundant environments and can easily distribute access to resources across various teams in your organization, giving you a full control over your data.
Simplified management
Managing Open-E JovianDSS and its extensive features is easy and intuitive thanks to the WebGUI which provides a quick overview and management of all storage resources and features.
Tiered RAM and SSD Cache
Open-E JovianDSS based Boston Igloo 4U-24T-Stor works as a tiered storage environment – speeding up access to frequently accessed files. It uses a caching algorithm to cache "often used" and "recently used" data separately, and provides the best performance by tiering hot data between RAM and SDD Cache.
Thin provisioning and unlimited number of Snapshots
Boston Igloo 4U-24-Stor uses thin provisioning to improve your storage utilization by allocating an exact amount of server space at the required time. You'll eliminate the cost of unused storage space and never again have to pre-allocate storage up front and buy too much hardware. Every Boston Igloo 4U-24T-Stor allows an unlimited number of snapshots which are a must-have option for effective disaster recovery scenarios.
Data compression and in-line deduplication
Boston Igloo 4U-24T-Stor offers data compression for minimizing storage capacity usage, ultimately boosting performance and taking less space on your storage. The in-line deduplication in Boston Igloo 4U-24T-Stor removes redundant data and minimizes storage capacity usage. The software checks each block for redundancy in the system and if it finds a match – the new block isn't written; instead, a shortcut leading to the original block is created. Such a system can reach a deduplication ratio of 3:1 or more, which means that if you place 3 TB of data it will only use 1TB of physical disk space.
View and download the Boston Igloo 4U-24-Stor Certification Report>>
About Boston Server & Solutions GmbH
Boston is an international specialist hardware solutions provider headquartered in the UK with subsidiaries in Germany, India, Australia and the US who work with our partners to provide turn-key systems for various markets and applications. We operate heavily within a number of different industries; this means we are uniquely placed to offer you and your customers the latest in technology for testing real world applications – giving you the leverage over your competition.
Leave a Reply