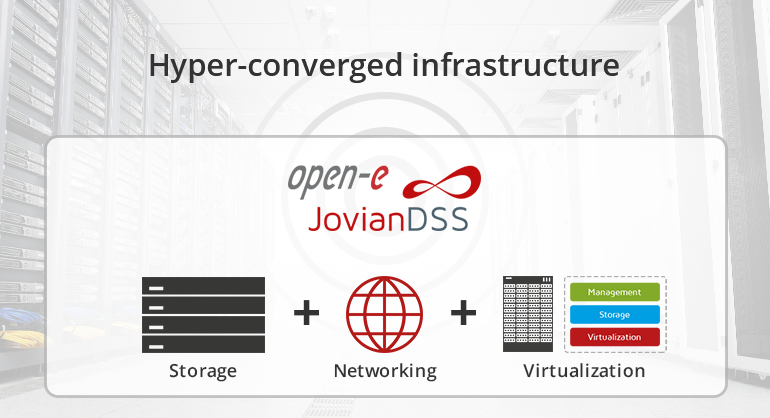 As you already know from our previous articles, hyperconvergence is an infrastructure framework that enables using a single appliance that integrates key data center components: storage, networking, virtualization and compute. In this article we would like to present the most important aspects of hyper-converged platforms, on which potential users should focus before implementing it as a technology for their organization.
Integration with the existing and future infrastructures
A full integration with the existing IT environment is vital, as it affects the overall costs of implementation and management. Focus on platforms that will easily integrate with your company's current environment, data center, cloud infrastructure or whichever technology you are using.
Backup, Failover and Disaster Recovery effectiveness
It is highly recommended to evaluate and compare the requirements for availability, Failover and Disaster Recovery with a vendor's offer before you decide for a certain hyper-converged platform.
Support for hypervisors in the current environment
Companies are recommended to use a hyper-converged platform that fits their existing infrastructure to lower the overall costs. The most popular hypervisors are VMware Server, Citrix and Hyper-V.
Simple maintenance and administration
It's no surprise that management, installation and maintenatce of a hyper-converged system may be difficult at some points. Consider a solution that guarantees ease-of use. Many of software and hardware vendors offer special trainings and certifications in case your IT team's skills and knowlegde will not be enough for a hyper-converged platform mangement.
Before buying into hyperconvergence, you need to consider the amount of data and appliances offered for a new environment, as well as to evaluate its integration possibilities. A good platform should manage to integrate and to grow together with the growing requirements for appliances or capacity etc.
Convenient support options
Hyper-converged platforms' providers vary in regards to support plans and its costs. There is no need to explain why it is of extreme importance to have your system covered all time and anytime. However, keep in mind that you will either have to invest in additional support, or work with a software vendor that provides flexible support options.
All in all, before you invest in hyper-converged technology you need to put all the above-mentioned features to your bucket list. Luckily, Open-E JovianDSS Software Defined Storage fulfills those demanding requirements. Open-E users can easily build a hyper-converged HA infrastructure with Open-E JovianDSS as Virtual Storage Appliance and VMware, that guarantees  great flexibility, simplified data protection, great workload mobility, cost efficiency, higher levels of availability, as well as reduced storage bandwidth and IOPS requirements.
Integration with the existing and future infrastructures – CHECK!

 Open-E Jovian DSS  supports VMware, Microsoft, Citrix, Linux, RHEL, MacOS, XEN, OpenStack environments. Plus, the Linux-based architecture in Open-E JovianDSS provides its users with much better compatibility than many other competing products.
Backup, Failover and Disaster Recovery effectiveness – CHECK!

Open-E JovianDSS contains the Off-site Data Protection feature – a native strategy for Backup, Archiving and Disaster Recovery that enables asynchronous replication to local or remote destinations. Moreover, Open-E JovianDSS is a High Availability storage software that includes failover functionality for SMB/CIFS, NFS and iSCSI. Read more about Open-E JovianDSS Features and Benefits >>
Support for hypervisors in the current environment- CHECK!

Open-E JovianDSS supports VMware and Microsoft Hyper-V environments. What is more, it enables consistent Snapshots for VMware virtual machines.
Simple maintenance and administration – CHECK!

Open-E JovianDSS guarantees quick and simple storage management thanks to an easy-to-use WebGUI with intuitive navigation, Console UI and scriptable CLI / API and REST API. Plus, Open-E tests, benchmarks and certifies their Partners' servers, offering Open-E JovianDSS Certified Servers – hardware that works seamlessly with Open-E JovianDSS.
Scalability – CHECK!

Open-E guarantees practically unlimited scalability, thanks to storage virtualization, thin and over provisioning (it virtually simulates a bigger volume than is physically available, and allows growing it without the need to re-format the file-system), compression and inline data deduplication (which drastically reduce physical disk usage) and more. Those features plus storage extensions enable unlimited storage capacity (up to about 5PB in single namespace with the ZFS technology on Linux OS).
Convenient support options – CHECK!

For JovianDSS, Open-E offers three flexible types of technical support levels . Each system comes with technical support (at least Standard Technical Support for 1 or 3 years). Additionally, users benefit from plenty of free resources: Knowledge Base, Open-E Forum, White Papers, Webinars and more! Check the Open-E JovianDSS Support Options >>
If you plan to set up a hyper-converged environment with Open-E JovianDSS as a Virtual Storage Appliance, contact one of our Partners.
For more information about Open-E JovianDSS as a hyper-converged platform, read our previous articles:
Hyper-converged HA infrastructure with Open-E JovianDSS VSA and VMware
Hyperconvergence with Open-E and ONE IN COM
Leave a Reply