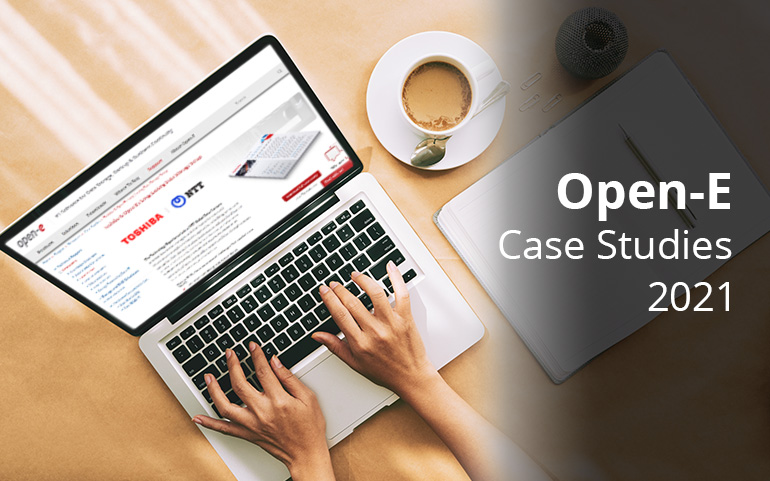 In 2021, Open-E created numerous solutions with and had many successful implementations of Open-E JovianDSS. We'd like to take a moment to review some of these 2021 case studies and highlight the outstanding performance of our data storage software solution, using real-life examples. Some of these case studies are available in both English and German. Check them out!
IT Service Provider With Own Data Center Renews Its Storage Infrastructure, Forms a Long-Term Strategy Based on Open-E JovianDSS
IT-Beratung HALBE, which operates its own data center, wanted to realign its strategy by replacing its conventional storage and virtualization environment, based on DSS V7 and VMware ESXi, with new infrastructure. While taking into account general cost-effectiveness, the company's main goal was to create a future-proof starting point so that it could provide competitive services to its customers in the IT and hosting arenas for years to come. To achieve this goal, IT-Beratung HALBE asked for help from Boston Deutschland – as they had done so several times in the past. Boston Deutschland proposed a package consisting of a customized all-flash High Availability data storage solution based on Open-E JovianDSS with two nodes and a shared JBOD (to be used as a storage extension) and a new virtualization host.
Requirements for the solution: 
To be able to provide low latencies and high IOPS

High Availability and load balancing

Reduction of licensing costs by switching the hypervisor to Microsoft Hyper-V
Read the full case study: English | German
GPS Solution Provider Chooses Metro High Availability Cluster Powered by Open-E JovianDSS
Code Monkey Studios Ltd, a software solutions company specializing in location services, chooses Open-E JovianDSS for its data storage solution. Code Monkey writes and runs solutions for companies worldwide and hosts it all on their own data center. The company has around 100,000 devices reporting location data every 30 seconds throughout the day. The fact that Open-E JovianDSS does not constrain the company to any specific hardware and allows the use of commodity parts were also huge pluses. This allowed Code Monkey to be able to implement their resilient storage solution of choice, something that could have been a rather costly operation elsewhere if you consider the other vendors' offers.
Requirements for the solution: 
To prepare a fast, reliable storage that's backed by SSDs

To create a highly redundant, flexible, and easy to use solution

To make a solution that works together with VMware ESXi
Read the full case study: English
Toshiba & Open-E Build Long-Lasting Data Storage Setup
This implementation didn't actually happen in 2021. However, it did have an anniversary in 2021. It's 4th anniversary actually, as it's been a failure-free data storage solution since 2017!
The Technology Experience Lab at NTT Global Data Centers provides data center managers as well as their teams the room and infrastructure to explore innovative approaches to building servers and storage for their clients. It enables businesses to evaluate the efficacy of private or hybrid clouds, distributed architectures, and alternative methods of delivering IT services in a low-risk environment. Its users also provide support and ideas through meetups, bootcamps, webinars, and hackathons. To find something that matched all these requirements, NTT Global Data Centers turned to Open-E's partner, Toshiba, for a solution. The team selected Toshiba and Open-E JovianDSS to form the required data storage solution. 
Requirements for the solution: 
The system had to use ZFS

The software had to offer high availability, no single points of failure, and high flexibility

The hardware had to be reliable and high-performing to take full advantage of the software and had to support several iSCSI block storage targets ranging from 10TB to 40TB, some with shared file folders
Read the full case study: English
Business-Critical Data in Good Hands
URSAPHARM, the German pharmaceutical manufacturer, needed a new data storage solution due to their increased demand for data storage capacities, both in the production and manufacturing environments. To understand why the data in this system has such enormous importance, it's essential to understand that production principles like absolute transparency, coupled with constant quality controls in the manufacturing process – are an indispensable industry standard. Monitoring software runs around the clock on VMware servers, accompanying and thoroughly documenting the entire production process. The collected data, for example, particles, cleanroom monitoring, or chromatography, must be kept on the storage system "almost real-time" and must be constantly accessible. After all the key figures and expectations had been agreed upon, EUROstor offered URSAPHARM a customer-specific data storage system that was specifically designed for their needs. Open-E JovianDSS was chosen as the supporting software. 
Requirements for the solution: 
The ability to minimize potential downtimes

Data storage in separate locations to increase overall security

A proven VMware certified system due to the company's long-term reliance on ESXi
Read the full case study: English | German
What kind of solution will we describe next? If you're using Open-E JovianDSS and you want to share your story it might as well be yours! Follow us on social media to find out and not miss out the upcoming Open-E JovianDSS case studies:
Leave a Reply