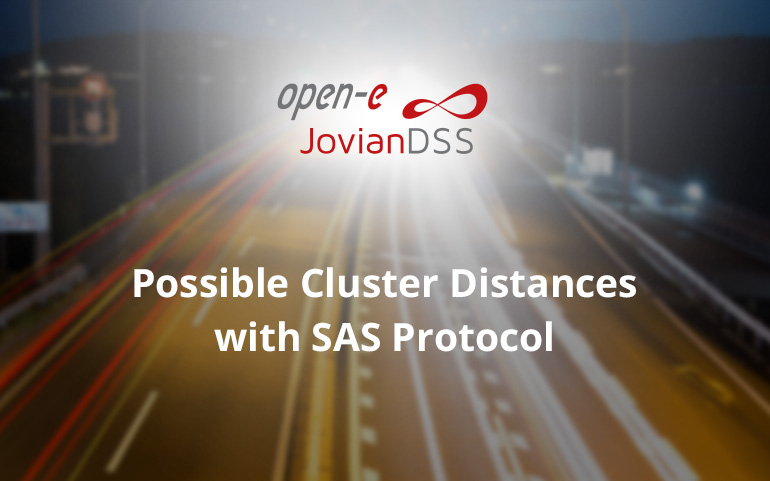 What are the cluster options while utilizing the SAS protocol? Is there any chance to create a stretched cluster while using SAS in the configuration? Those are the questions we've asked ourselves a long time ago, and, this time, we've decided to ask your opinion and share our professional point of view on this topic.
The answer to those questions depends on the configuration possibilities you'd like to utilize. In general, the Serial Attached SCSI (SAS) is a point-to-point serial protocol that is no longer than 10 meters. It means that if you deploy the solution with SAS only, there is no chance to spare the nodes further than a single room location. 
However, if it were so simple, this question would not even appear. There are several ways of sophistication in the deployment possibilities, including Serial Attached SCSI and being stretched anyway. For example, with Open-E JovianDSS, you can have at least two options for making a cluster configuration when using SAS protocol stretched. Let's have a closer look at them.
Non-shared Storage Cluster
One of the most straightforward options for a possible stretched cluster configuration is a cluster over Ethernet (in other words, a non-shared storage cluster). The SAS connection may be performed between each node and its JBOD, and the Ethernet will be responsible for the "stretching" part even up to 300 kilometers between the pools. In the case of Open-E JovianDSS, such configuration will look as follows: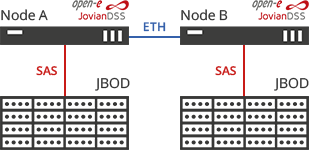 This way, even with such a short SAS protocol connection, your system can cover the High Availability and Disaster Recovery plan by locating two pools in completely different places (buildings, offices, etc.). 
Shared Storage Cluster with SAS/FC ATTO Bridges
You may say that a non-shared storage cluster configuration is sort of an obvious solution in the case of SAS protocol use. As an alternative, Open-E JovianDSS can have a shared storage cluster with two Serial Attached SCSI (SAS) JBODs made as a stretched one. In this configuration, you should use SAS/FC ATTO bridges, which will expand the SAS connection from the JBOD to a Fibre Channel and lead to both nodes. Thanks to those bridges, the cluster can be stretched even up to 300 kilometers (which were verified and tested, but it can possibly go even further beyond). This way, you can have a cluster divided into different cities or even countries and still have it working with no unexpected downtime. The illustration below shows how such a dual shared storage cluster configuration will look in the case of Open-E JovianDSS: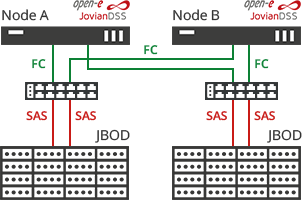 Do you have any other ideas on how to create a stretched cluster with a SAS protocol connection? Please share them in the comments!
Leave a Reply