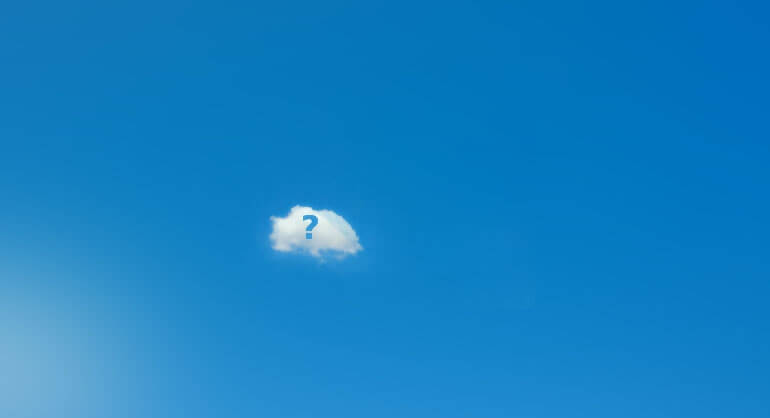 Cloud is "hot", everyone is talking about it, everyone uses it, everyone keeps data in the "Cloud". However, do we know what it really means? Let's look at a cloud without a marketing shell – at the myths and facts.
Confusion in the Clouds
Where does the Cloud begin, and where does it end? You may say: "Yes, I have access to my data from various locations. I can choose the capacity of services. I work in the Cloud…". Well, the semantics of it have become muddled.
No one knows when, but as it was co-mingled and mainstreamed into colloquial language, the Cloud concept has shared the fate of other similar phenomena. Its foundations have become, shall we say, "cloudy". That's why it is important to define it and all other associated concepts. Let's start from the beginning.
The Definition
The official NIST definition states: "Cloud computing is a model for enabling ubiquitous, convenient, on-demand network access to a shared pool of configurable computing resources (e.g., networks, servers, storage, applications and services) that can be rapidly provisioned and released with minimal management effort or service provider interaction." (source)
There are five key features: self-service on demand, resource pooling, network access, scalability on demand, and measured service. Almost everything seems to be clear… almost. Even with such a precise and detailed definition, there is still a lot of room for various understatements and doubts which may lead to misuse of the term "Cloud"- let's take a closer look.
Facts and Myths
The first thing is the idea of hosting. The fact that you are keeping software in any case on a remote machine does not mean it is the "Cloud". It doesn't even meet the primary objectives of the NIST definition. Hosting can only be seen as a part of the idea of Cloud computing. Also the fact that one is using XEN, VMware or any virtualization solution does not mean that they are "in the Cloud". It only means they are using a component of a cloud solution.
Comparing Cloud with Grid computing is also a mistake. Both are scalable, operate with multi-tenancy and multitask, but there are also differences. The first is a model of scalability. In the case of Grid, there is just a need to add a new server. Cloud requires the allocation of resources at once – at the request of the customer. This phenomenon was described by Rich Wolski – one of the authors of "Right Scale" – a popular application for managing services in the cloud: "If we have a cluster that consists of 1000 units, its users may allocate all of them or half or 200. Some of these allocations can be serviced on time, and some of them can be queued until resources are returned. As a result, we can point to advanced algorithms used for resource planning. That's why we can say that Cloud computing is a set of small allocated resources." (you can read more about it and about Amazon EC2 solutions on: RightScale Blog). What can be concluded from this? In short: Grid is something finite and allocated with the use of queues. Cloud is a dynamically scalable platform, which provides enlarged resources on demand, in real time.
Another issue concerns the "on demand" concept. In the case of Cloud it means not only that any action will be performed on user demand, but that it will also happen without human intervention – the developer, administrator, or anyone. For example, if someone says: "Yes, my storage is scalable – it's Cloud and stuff. Just let me know and I'll give you more space. It won't take me more than three days." – they're wrong and have nothing in common with work in the Cloud.
In conclusion, we can say that one swallow doesn't make a summer. If your infrastructure meets any of the assumptions of the NIST definition it doesn't mean it works as the Cloud. It is important to emphasize that Cloud Computing is a complex structure that must meet a number of specific conditions to fulfill its role.
Fear of the New
As is easy to see, many have become self-proclaimed Cloud users – sometimes out of ignorance, sometimes through a false self-promotion ("I work in the Cloud" – one may brag). On the other hand, one can hear a lot of voiced concerns which indicate a fear of new technology.
Some of them are related to security – rightly and wrongly, which sounds contradictory. Why? "Cloud" does not mean "secure" (not directly). As often happens, human factors play a role. One can say: "Yes, Cloud is safe", but its security will always depend on the service provider, proper internal control, a solid design and operational rigor – nothing more, nothing less. Another thing is that any solution requires consideration of the required level of safety. It means that in some cases, a regular cloud solution appears to be a good idea, and in others it is better to think about a hybrid cloud solution or virtual private cloud. The same applies to performance. Its level may vary depending on a provider and implemented solution.
Also, there is reliability. While we can be sure that Cloud solutions are designed to provide the highest possible availability and redundancy, nothing is perfect. To narrow the choices, one should base their consideration not on a comparison of capabilities, but value for money. Viewed in this light, cloud solutions may appear to be the best ones.
A Marketing Conspiracy?
All these doubts, coupled with a few misunderstandings, may be the reasons why "Cloud" is considered a marketing gimmick, an empty slogan or just a simple fad. And it has nothing to do with homegrown IT marketers.
Have you heard Richard Stallman's statement about the Cloud? "It's stupidity. It's worse than stupidity: it's a marketing hype campaign," he told The Guardian. Or Larry Ellison from Oracle who said: "The computer industry is the only industry that is more fashion-driven than women's fashion. Cloud Computing. I remember I was reading W and I read that orange is the new pink. And Cloud is the new SaaS. (Software as a Service) Or cloud is the new virtualization. It is the most nonsensical. I mean I read these articles… I have no idea what anybody is talking about. I mean it is really just complete gibberish" (source).
Storage for Cloud
Open-E DSS V6 is software recommended by experts for use in any storage for Cloud implementation. You can download it and try it for free. Check out the link: Open-E DSS V6 storage software
Richard Stallman is the enemy of cloud solutions because of the possibility of losing control. Well, yes, but is that the basic assumption of cloud? Is it truly a loss of control? Any product or service, when shifting the responsibility somewhere or to someone else is connected with a kind of risk. The only thing that can be said to the doubters is this: If you are afraid of the Cloud, if your data is confidential, valuable, whatever, then the only solution is secured offline storage. In other words, the advantages of the Cloud are not for you.
What about Larry Ellison? His charges relate mainly to the fact that Cloud solutions were "nothing new". He may be right. But it is also important to know that the popularity associated with the possibilities of Cloud computing have appeared recently and together with the development of the global network. What's more, Cloud is not only "virtualization" or "SaaS". It is a synergy of these and other elements, not just a rebranding of old names. It is a development – the evolution of old solutions.
If you disagree, look up the concept of "Orchestration". It shows that Cloud is not only just a "new way of virtualization". Yes, that's a part of it, but the synergy also applies to such items as: network management, communications between servers, scheduling, queuing within the infrastructure etc. You can draw your own conclusions.
Overall, although the statements and doubts of experts may have a basis in reality, the phenomenon of Cloud computing is not only a marketing gimmick. So what's it all about?
The Cloud – The Other Side of the Coin
Cloud storage, cloud music, cloud games, cloud services, cloud whatever… Yes, it sounds nice. It's new, and trendy. It is also the convergence of multiple entities to a need. Everything becomes clearer if we leave the marketing bubble. Let's try to do this not by the NIST definition, but from the perspective of a business user.
Think about the Cloud, think about:
Self-service
Web-based service
Virtualized infrastructure
Multi-tenant architecture
Scalability
Automation of processes
"On demand" service and immediate implementation
Cloud solutions were designed and created to facilitate work. We can point to various uses, but one is the most important – it is the outsourcing of IT processes outside of a company. Cloud allows businesses to focus on primary objectives and at the same time gets rid of costly IT processes. Data are stored on multiple servers in a network and available via website or other protocols from anywhere. Additionally, each service is implemented immediately and on demand. There is no need to wait, there's no need for complicated and expensive technological facilities. This is the simplicity of the Cloud: just take a credit card and buy the appropriate service for a number of workers in a company.
Cloud has led to a situation in which access to IT technology has become widespread. This is inarguable. So, is Cloud just a new level of virtualization technology based on the existing IT infrastructure, or a brand new cutting-edge solution?
Cloud computing is rather, a set of values passed to an end user. Where does the Cloud begin, and where does it end? The second part of this question is hard to answer, but the first one is easy. Cloud begins at the same point where its true potential starts.
Leave a Reply