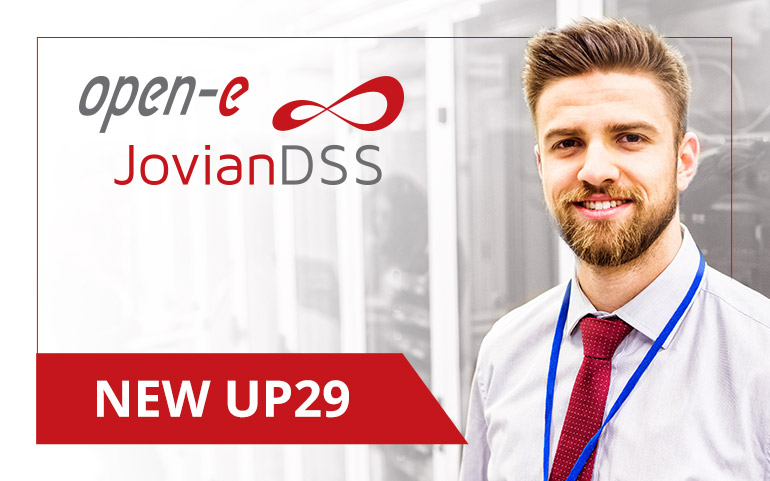 After a long year of intense product development, Open-E lab just released the latest update of our flagship storage operating system – Open-E JovianDSS.  The up29 version is now available and provides plenty of new functionalities and improvements. One of the most awaited features is a sequential algorithm that accelerates data recovery and helps to overcome hardware limitations in terms of disk performance. See what else is new and upgrade your Open-E JovianDSS today!
Sequential algorithm for data scrubbing
To speed up the process of scrubbing, which helps to maintain the data integrity, Open-E JovianDSS has been upgraded with a sequential scrub algorithm. With a new, two-phased algorithm, metadata is first scanned through the structure to create the list of data blocks in the memory queue. The list is then sorted by blocks' size and offset in order to arrange them in sequential order (as they are physically located on the drive). In the second phase, based on a sorted list, data on the pool is checked byte per byte against their checksums to find corrupted ones (if any). Thanks to this, we can scrub now terabytes of data in days rather than months.
Sequential algorithm for data resilvering
The faster sequential algorithm was also implemented into a resilver mechanism, which is executed in case of a drive replacement due to its failure, removal, or temporal unavailability. To execute the process, metadata is scanned to make a list of data blocks that need to be resilvered. The list is then sorted by size and offset on a drive, to create a sequential queue of blocks that will be recovered into the new drive. This approach is far more efficient than the former mechanism, based on the random I/O operations. 
Hot-plugging feature for NVMe disks
We implemented a hot-plugging and swap feature that allows adding faulty NVMe disks without shutting down and restarting the system. 
New REST API functionalities
In update 29 of Open-E JovianDSS we have also provided two brand new functionalities for REST API: hard (low level) reboot, and additional filters allowing search by SCSI ID, EUI, target name, and Zvol name.
Logging mechanism improvement
Open-E JovianDSS logging mechanism has been improved and optimized in case of hard or unexpected reboots.
Text-based User Interface update
In update 29 we have also enabled the following features in TUI:
small update removing tool

disk LED blinking reset tool 

write cache management tool (on/off)
Open-E JovianDSS up29 updates!
To keep Open-E JovianDSS system environment secure and stable, we have also updated the following systems, drivers, and controllers:
Kernel 4.19

ZoL 2.0.0-1

Intel 1GbE driver (igb, v5.4.6)

Intel 10GbE driver (ixgbe, v5.9.4)

Intel 1GbE driver (e1000e, v3.8.4-NAPI)

Broadcom BCM573xx and Broadcom BCM574xx controllers (bnxt_en, v1.9.2)

MegaRAID Storage Manager (MSM, v.17.05.00.02)

Mellanox ConnectX-3 driver (mlx4_core, v4.7-1.0.0)

Mellanox ConnectX-4/5 driver (mlx5_core, v4.7-1.0.0)

QLogic Fibre Channel HBA Driver (Target Mode Support, up to 26xx/83xx ISP) (qla2xxx_scst, v8.04.00.05.2.2-SCST.03-k-p)

ATTO Celerity 16Gb/32Gb Fibre Channel Adapter driver (celerity16fc, v2.02.0f1)

HP Smart Array driver (HPSA, v3.4.20-196)

Adaptec Series SAS/SATA 6/12GB RAID driver (aacraid, v1.2.1.59002src)
The up29 version of Open-E JovianDSS can be downloaded here.
Leave a Reply