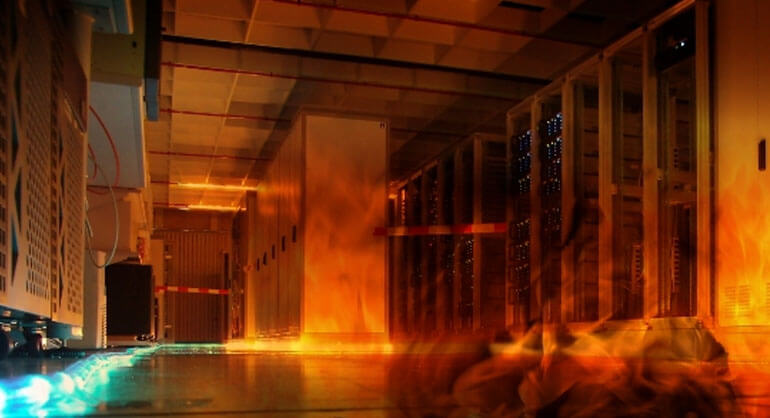 Here are three invented stories, three good endings and three bad ones. It does not matter who you are and what you do – it can happen to you. Let's say this article can be an anecdote for you – so you can sleep peacefully at night.
John Smith, freelance graphic designer
John Smith has been a freelance graphic designer for the past seven years. He uses a 1TB HDD to store his work. The device is connected via SATA, as a slave drive in his PC. It is helpful when there is a need to get fast access to large files – faster than an external HDD connected via USB. One day there was a power surge…
As we all know, HDD failure is not something strange and unprecedented – it happens. The most notorious cause is head crash – when the read-and-write head touch a platter. There is also the possibility of failure of an air filter – one speck of dust can damage the drive or cause bad sectors. Hard-drives are mechanical devices, so it is obvious that they are not indestructible. It can be dust, a power surge, accidental damage, impact – just an accident. Data stored on a HDD will never be absolutely safe – we should all be aware of it.
Bad ending: The workstation and hard-drives – with latest works and backup files – crashed. John Smith lost all his data. He was not able to finish his work on time. He also could not restore his old files, which were important for his job. He lost his customers. Rebuilding his reputation and portfolio took him a very long time.
Good ending: John's workstation was damaged but not his external mass storage device. He used two HDDs connected in a RAID (RAID1, Mirroring-1). The additional support from storage software – which ensured regular backups – helped to limit his losses. Lost data was only a drop in the ocean, and the delays associated with its loss were promptly remedied.
RAID 1 is an easy way to backup all important data. Even if there are four hard-drives (connected in RAID1) and three of them are damaged, the entire array will still work. The main benefits of RAID 1 are resistance to failure of hard-disks and increasing read speed with reduced access time. Of course, there are also some drawbacks, like: a possible decrease in write-speed and a loss of capacity. The reason is because in RAID 1 total capacity is equal to the capacity of the smallest drive. (i.e. the capacity of two connected hard-drives – 250GB and 500GB – will be equal to 250GB).
Take a look here for a free data storage solution.
ACME Construction Co., the medium-sized enterprise
ACME Construction Co. is a medium-sized company which sells construction equipment. The base of all sales and marketing activity is a call-center and an Internet Marketing Department responsible for sending newsletters, trade offers etc. The company uses a small server unit to store all important data – including their customer database. Unfortunately, there was a burglary. Despite the fact that the police successfully recovered all stolen items, the server was damaged by the burglars…
Information can be a product. It can also be an important raw material. For most companies, internal know-how is regarded as the most valuable secret or at least as an important element that supports a company in a market. Stored data on a server – even when using the best possible hardware and professional data encryption software – does not guarantee safety. Remember Murphy's Law: "If anything can go wrong, it will".
Bad ending: ACME Construction Co. lost all strategic data – including their customer database. In the worst case scenario, this could mean bankruptcy. In the best, a loss of customers, revenue, and an arduous process of market position rebuilding. Unfortunately, ACME Construction Co. failed to return to the market after the accident.
Good ending: They quickly overcome the situation. Additional copies of the data were stored in a safe place. Recovery of lost data was run smoothly. It would not have been possible without the use of an additional device, which – after the weekly backup procedure – was locked in a company safe. In this case, local backup – one of the functions of storage software – allowed them to use an external device to store their sensitive data. The whole facility was rebuilt in no time, because they took into account what was at stake.
Local backup is a good solution if there is no need to backup data in real time. Otherwise, it is the best idea – especially without proper back-up facilities in a different location (as in the case of failover). It is also a much better and cheaper solution when continuous access to data is not necessary.
Take a look here for a professional data storage solution with local backup functionality.
ACME Data & Hosting Services, the small-sized data center and hosting company
ACME Data & Hosting Services provides support for a large logistics company. It offers data storage for efficient management of the client's company. Because of an accident, a big part of the ACME Data & Hosting Services facility was destroyed by a fire…
There is no possibility to ensure the safety of data stored in one place. There is always a risk of loss – even if all safety procedures are met. Prevention of even the least likely scenario is the basis of security. That is why the only way is to place all sensitive data in two different locations. With appropriate software support, any kind of service can be provided without interruption.
Bad ending: The blow-out of service led to the loss of the strategic client. Cut-off from their necessary data, the company collapsed. Ultimately, ACME Data & Hosting had to leave the market.
Good ending: In order to keep the data completely redundant, ACME Data & Hosting Services divided the cluster into two different locations. It assured data security even in the case of physical damage on the part of the facility. Finally, large losses did not affect the functioning of the company and its client's enterprise. A quick resolution to the crisis only increased the confidence of other potential customers.
There are various possibilities to reduce the risk of data loss. A basic idea is to support the cluster from two different locations. In this case, all data written on the primary server is mirrored to a secondary server. Whatever happens to one of them, there will always be a chance to recover data and maintain the supply of services. It is extremely important for networks, systems or servers that require continuous availability and reliability.
Take a look here for a professional data storage and backup solution.
Read also:
Back it up, lose it, restore it and stay calm – 10 basic rules for the wary
Leave a Reply