Products comparison & recommendations
Open-E offers various storage software products – each of them recommended for different purposes: from software dedicated for small and medium businesses to software for highly demanding environments such as data centers. Find out more about the differences and advantages on this page.
Description

ZFS-based storage operating system: Offers unlimited scalability and high performance, at the same time providing back-end storage for virtualization and backup.

Thin provisioning, tiered caching and De-duplication make this a solution for demanding enterprise environments.

One year of software support included.

XFS-based unified storage operating system: Software solution for storage in SMB and Enterprise production environments.

iSCSI and NAS unified in one software which can be used for any typical storage installation. The iSCSI active-active load balanced failover adds extra performance for demanding installations.

One year of software support included.
Filesystem
ZFS
XFS and block device
Characteristics
Performance
Very high
High
Maximum storage
Unlimited
Unlimited
Maximum volume size
Unlimited
64 TB
Hardware recommendation
8 CPU cores, 64 GB RAM, HBA
4 CPU cores, 8 GB RAM, H/W RAID adapter
Architecture
64-bit
64-bit
Cost
High availability
Active-Active iSCSI metro cluster
No
Yes
Active-Active iSCSI shared storage cluster
Coming in Q1 2015
No
Active-Active NFS shared storage cluster
Coming in Q1 2015
No
Usage recommendations
Virtual desktops
300+ virtual desktops
1-500 virtual desktops
Virtualization
100+ virtual servers
1-200 virtual servers
Backup
Yes
Yes
NAS
Yes
Yes
Protocols
iSCSI
Yes
Yes
NAS (SMB/CIFS, FTP, Secure FTP, HTTP, Apple Talk, NFS v2, v3)
NFS
Yes
Fibre Channel
No
Yes
IP over Infiniband
Yes
Yes
Features
Caching
Native, tiered RAM and SSD
Hardware support
Thin Provisioning
Yes
No
Deduplication
Yes
No
Compression
Yes
No
Snapshots
Unlimited
Up to 20
Clones
Unlimited
No
VSS
Yes
Yes
Certifications
VMware certification
In progress
VMware Ready V5.1 (V5.5 in progress)
Citrix certification
In progress
Citrix Ready
Hyper-V certification
In progress
Tested and confirmed
---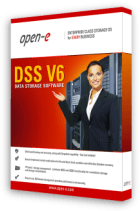 XFS-based unified storage operating system: Legacy software product which is useful for a small number of applications.
It is still available, but will become end of life on 30th of June 2015.
During transfer from Open-E DSS V6 to V7, a small number of features was not implemented due to Open-E's commitment to different technologies. Open-E DSS V6 is a stable solution for NFS failover clusters and hardware based on 32-bit architecture. For all other installations Open-E DSS V7 and JovianDSS are the recommended software solutions.
One year of software support included.
Learn more