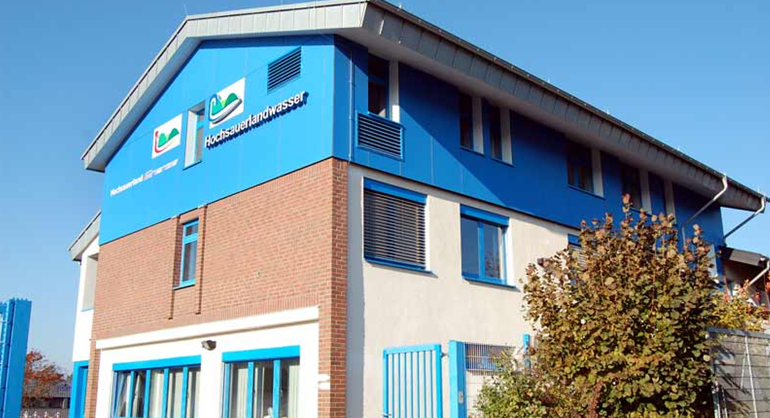 Hochsauerlandwasser GmbH is a joint communal drinking water supplier in Germany that handles drinking water supply and sewerage for about 59,400 citizens in a service area of approx. 400 km². That is quite a big area of service. It also means that requirements for a stable and reliable IT infrastructure are very demanding. Read how Hochsauerlandwasser consolidated their storage environment and build iSCSI Failover Clusters with the help of Open-E software, VMware vSphere and TAROX hardware.
The issue
As a big organization, Hochsauerlandwasser covers not only water supply and sewerage, but also energy supply, street lighting, sewage disposal as well as building, purchasing and operating respective facilities. All this includes commercial and technical management and consulting for communal waterworks and waste waterworks or even other suppliers.
Having such an extensive area of services, their requirements for accessibility and availability were extremely high and have been systematically growing. As the storage network implemented in Hochsauerlandwasser Gmbh was already outdated, they required a complete refreshment. That is why their long-time partner IT-Schulte proposed a scalable High Availability cluster infrastructure with Open-E.
The best solution
The new solution was to provide high availability, scalability and flexibility. Thus, IT-Schulte suggested using a virtualized infrastructure based on VMware vSphere 5 and Open-E DSS V7 data storage software, all implemented on TAROX hardware.
Both servers consist of Intel® Xeon® E5 series systems with Intel server technology and high RAM capacity as well as 10GbE interface cards. The risk of hardware failures or downtimes has been reduced to minimum thanks to VMware High Availability and the vMotion feature.
When it comes to hardware setup, Hochsauerlandwasser GmbH uses two servers with Open-E DSS V7 as iSCSI failover clusters in active-active mode, as well as two VMware ESX hosts on TAROX hardware while the connection of all systems is based on 1Gb / 10Gb network cards and redundant copper switches.
Such benefits provided by Active-Active setup makes it ideal for demanding virtualization environments, database applications or video surveillance systems. Among other criteria, those environments require:
Optimal speed for data processing (both read and write)
Maximum utilization of the storage space
Storage overload prevention
No Single Point of Failure
Success!
"Apart from its flexibility, I was convinced by high stability of the Open-E servers. In case of hardware failures the storage continues to run without interruption, and even after power outages the system can be easily rebooted by using standard servers. We don't even have problems in regards to spare parts as we're not forced to use any specific SAN disk drives."
Sebastian Ruf, system administrator at Hochsauerlandwasser GmbH
Download and read the full Case Study >>
---
Try Open-E DSS V7 for free and download your 60 day Trial version now!
---
Leave a Reply