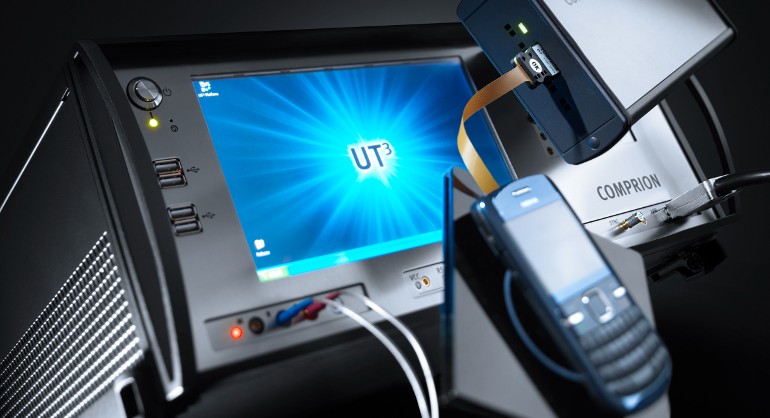 Today we invite you to read about a successful Open-E JovianDSS implementation, this time by COMPRION, a world leader in manufacturing test solutions for terminals and smart cards.
The situation
COMPRION is well-known for the precise measurement of their test systems as well as for their unique testing capabilities. The company works with many different types of customers, like handset , card and chipset manufacturers, mobile network operators, or test houses. To manage all their business-critical data and with having such a broad range of services and clients, they had to use a Software Defined Storage solution which consisted of approx. 100 virtual machines based on three pools:1 x 300GB SAS, 1 x 600GB SAS and 1 x 2TB SATA.
COMPRION's business challenge
The main problem was that their current Storage Management Software was causing massive downtimes. The reason: The hardware and software they had combined turned out to be not compatible. For instance, failed disk drives were not detected, the overall usability was far from intuitive and despite an on-site training of the software manufacturer, the mentioned issues could not be easily solved with their existing solution.
Solution – High Availability with ZFS-based Open-E JovianDSS
After reaching the EOL date of COMPRION's existing hardware, their IT specialist started searching for a new solution that would be able to provide them with more capacity, improved performance and reduced latency. Luckily for them, they have approached Open-E Partner Boston Server & Storage Solutions from Germany.
The plan was simple: deliver new hardware and integrate the old servers with the new environment. After Boston got acquainted with all issues, they recommended testing JovianDSS –the ZFS- and Linux- based Software Defined Storage solution from Open-E. First, COMPRION decided for a trial version of the software which convinced them right away.
The new storage solution guarantees that the company is now able to gain far more capacity than they used to have, together with improving the overall performance and latency reduction. Thanks to a new setup with two pools, 1 x 600 SAS and 1 x 2TB SATA they were able to save storage capacity as well. Moreover, the protocol was switched from NFS to iSCSI which additionally increased the performance of the system. The advanced functionalities of the ZFS file system, such as thin provisioning, compression and synchronization are now frequently used by COMPRION, for more data safety and reliability.
Hardware setup
The solution is based on an Open-E Certified Storage Server from Boston Server & Storage Solutions – the Igloo 4U-24T-Stor. It consists of two Intel®Xeon® processors E5-2630 v3 2.40GHz, 12 certified 8GB DDR4 2133MHz ECC registered. The raw capacity is 22TB. Ten VMware hosts are running on vSpere 5.5.
The results
"We are absolutely happy with our new Software Defined solution. The intuitive interface of Open-E JovianDSS is much easier to use than the previous one. The administrative effort could also be reduced significantly. Implementing the software was very easy as it was similar to our old storage environment. Moving the data during ongoing operations also worked very well by using vCenter and caused no downtime at all."
Sebastian Wegener
IT Administrator at COMPRION
---
Download the Case Study here >>
You can also try Open-E JovianDSS for free and test the Online Demo on our website right now!
Leave a Reply