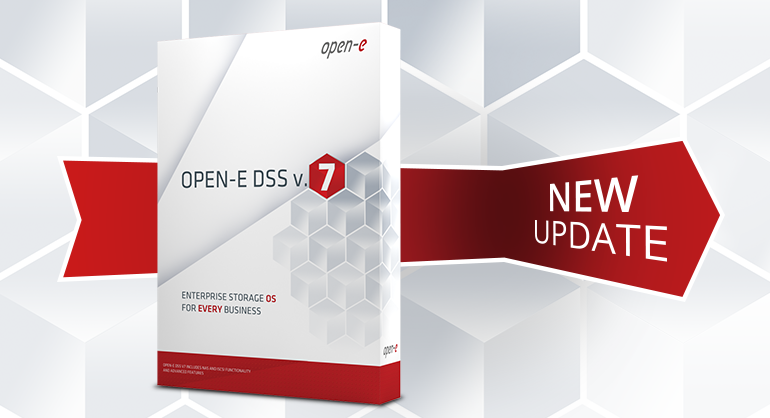 Lately our engineers have updated Open-E DSS V7 Data Storage Software with some new features, updates and fixes. Thus, the update 57 is now available for download on the Open-E website.
The Linux-based Open-E DSS V7 data storage software ensures Business Continuity and High Availability, and enables centralized storage management. As a unified file and  block-level  operating  system, the software  provides  support  for  multiple  infrastructures (1GbE, 10GbE, 40GbE, FC, Infiniband), and offers NAS, iSCSI and Fibre Channel in a single application.
Open-E DSS V7 is loaded with best-in-class features, aimed at demanding virtualized environments, HA storage clusters, network environments, CCTV, backup and more. Read more about features and benefits in Open-E DSS V7.
The following new features have been implemented in the Open-E DSS V7 up57:
Online tutorials in GUI
HA cluster management with CLI API commands
Volumes availability monitoring with IPMI watchdog in HA cluster
Auto-Discovery AFP shares with Bonjour functionality
Support for SMB2 protocol
Ability to use external, removable device (e.g. USB, hot plug SATA/SAS) as a storage for Local Backup functionality (Dynamic Unit)
Windows Server 2012 Hyper-V drivers for paravirtualized hardware (hv_netvsc, hv_utils, hv_storvsc, hid-hyperv, v.4.1.0)
KVM drivers for paravirtualized hardware (virtio-net, virtio-scsi)
Tool for Newtech RAID management
Improved mechanism of hardware failure detection (low memory corruption)
Support for QLogic FastLinQ 45xxx Series Controllers (qed, qede, v.8.8.5.0)
For more details on the update 57, read the Release Notes >>
Leave a Reply