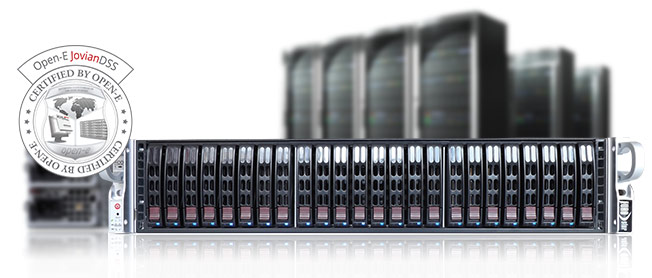 Open-E recently benchmarked and certified a new storage server by EUROstor, the ES-8724DJDSS25, for Open-E JovianDSS Software Defined storage. The certified solution is perfect for users that require exceptional redundancy and security, without compromising performance.
EUROstor ES-8724DJDSS25 for Open-E JovianDSS
Open-E JovianDSS is based on ZFS and offers many different options in regards to hardware, such as capacity capability, performance range, and connectivity. EUROstor ES-8724DJDSS25 together with Open-E JovianDSS form a high performance storage solution.
With the ES-8724DJDSS25 users can build a fully redundant and fault-tolerant environment with a range of features that are easily accessible thanks to the intuitive browser-based interface of Open-E JovianDSS. Among the biggest advantages of the system are features like CPU-friendly high compression ratio, NFS performance of 4GB/s and big RAM Cache of 128GB, high I/O from its 12Gbit backplane connected to a 12Gbit SAS HBA and 12Gbit drives. What is more, the server can be easily upgraded with an additional processor. Moreover, the ES-8724DJDSS25 RAM Cache performance is increased by approximately 10-20% with DDR4-2133, compared to DDR3. EUROstor uses one single Quad Core CPU, with 3,5GHz and 128GB RAM with 2133 MHz for best compression and deduplication results. The server can be expanded with another CPU up to 1TB memory.
EUROstor ES-8724DJDSS25 is optimized for databases and file servers as well as for virtualization tasks and allows for integration with VMware, Citrix and Microsoft Hyper-V environments. The server is suitable for VDI, databases, media streaming / CCTV, high RAM cloud servers or Exchange / SQL servers and provides the following advantages:
Guaranteed data protection
Data compression and in-line data deduplication
Enhanced storage performance
Flexible scalability
Simplified management
Data integrity check
Unlimited number of snapshots and clones
Tiered RAM and SSD Cache
Hardware information
More images and details are available in the Certification Report>>
About EUROstor
EUROstor is a European storage manufacturer located in Filderstadt, Germany. To order or to find more information on certified solution please visit the EUROstor website.
Leave a Reply