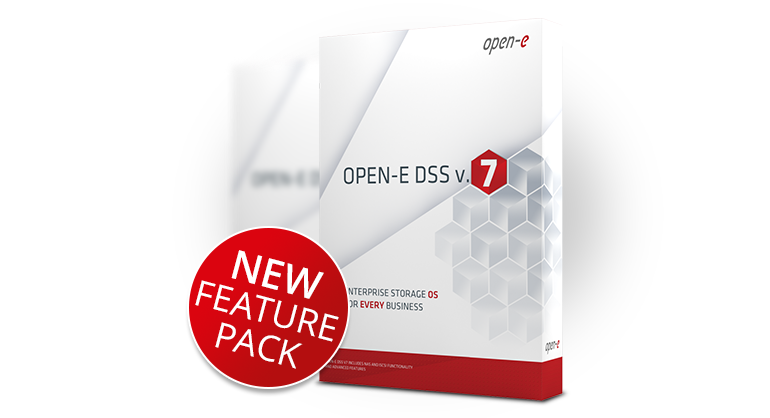 Great news! Our team decided to release the new version of Open-E DSS V7 earlier. The update is now available for download and you can get it directly from the Open-E website.
What's new in up50?
For the past few months Open-E developers have been combining features of Open-E DSS V6 and Open-E DSS V7 for this extensive update – they created a whole new version including the best of both worlds. This is especially good news for Open-E DSS V6 users, who can now upgrade to Open-E DSS V7 without losing their favorite tools.
Here's what's included:
Active-passive Failover for NFS / iSCSI clusters (no extra costs)
Active-active Failover for NFS / iSCSI clusters (Feature Packs)
Local backup tool for incremental backups
Advanced cluster management
Improved hardware support and kernel
The NFS (NAS) failover was so far only available in Open-E DSS V6. Now with an active-passive failover setup, users can achieve fault tolerance via synchronous volume replication for NFS or iSCSI shares. The active-passive failover is included in the upgrade for existing users and available at no extra cost. Its also important to note that Open-E DSS V7 now allows for configuration of both nodes while connected to one system, as opposed to Open-E DSS V6.
For more demanding storage environments and for even greater performance we also include active-active failover for NFS or iSCSI sold in separate High Availability Feature Packs.
Additionally, we added a set of helpful tools for efficient cluster management, such as the resource pool overview, remote node status or configuration statuses. And with our failover manager, you will have an overview of cluster configurations allowing you to stop a cluster. Also when starting a cluster, Open-E DSS V7 checks all critical settings on each node, including: SCSI IDs, tasks, ping nodes, configurations, resource pools, auxiliary paths, and more. This way, clusters cannot be started if they were configured wrong.
Apart from the failover functionalities, the up50 includes an improved and reliable local backup tool that allows users to secure and restore data with minimal interruption to their workflow. It can be either used with the built-in backup and restore capabilities, or utilized with commercial backup software like Veritas, EMC Dantz, and CA BrightStor.
Open-E DSS V7 is now running on the latest kernel which ensures higher stability and increased performance. In regards to hardware support, Open-E's engineers also updated the software with a wide range of drivers for network controllers, RAID adapters, management tools and protocols. The full list of supported hardware and software is available in the Open-E Hardware Compatibility List.
More information on Open-E DSS V7  and a list of the current features can be found on our website>>
Last chance to upgrade to Open-E DSS V7
On September 30, 2015 our legacy software Open-E DSS V6 will be end-of-life. That will also be the last day to upgrade to Open-E DSS V7. After September 30th upgrades will be no longer be available for purchase.
Upgrade and save!
We are offering special promotions on upgrades and technical support – but only until September 30, 2015:
25% discount on Upgrades from Open-E DSS V6 to V7
FREE Support Renewals with every upgrade license having valid support
50% discount on Support Reinstatements for expired support licenses
To order, please contact an Open-E Partner in your area.
Leave a Reply