Open-E Data Storage Software V7 - General information
Open-E Data Storage Software V7 is a Linux-based data storage software used for building and managing centralized data storage servers - NAS and SAN
Open-E DSS V7 offers built-in enterprise-class features, such as:
Active-Active Failover for NFS and iSCSI (Feature Packs)
Active-Passive Failover for NFS and iSCSI
Full Hyper-V Cluster Support
Volume Replication
Snapshots
Continuous Data Protection
Storage Virtualization
VMware Ready and Citrix Ready certifications
And more...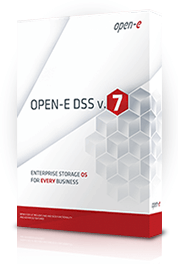 Active-Active Failover for NFS and iSCSI boosts overall system performance and minimizes downtime since the read, write and replication traffic is balanced over two nodes. Active-Passive Failover provides fault tolerance via synchronous Volume Replication for NFS or iSCSI shares.
Open-E's DSS family of products is widely recognized and awarded by the storage industry. There are over 27,000 installations worldwide among which there are many Fortune 500 companies.
Open-E's highly qualified support engineers offer technical guidance during deployment and everyday use. Wide range of affordable and flexible Support Plans suits the needs of any company.
Product brochure
---
Printer-friendly brochure with all information about Open-E DSS V7.
Download
Why Open-E Data Storage Software V7
---
We understand there are many solutions to choose from when selecting your storage software. You should consider our product if you want to quickly get more from your existing hardware, accelerate performance, minimize downtimes and assure uninterrupted business operations. With Open-E DSS V7, you will also experience significant time, cost and storage volume savings.
Enterprise-Class Storage Software for Every Business
---
Open-E DSS V7 is a fully featured NAS (Network Attached Storage) and SAN (Storage Area Network) software platform. NAS offers support for multiple file protocols which enable you to build cross-platform solutions and SAN offers iSCSI Target and Fibre Channel Target functionalities.
The flexible design and excellent scalability of Open-E DSS V7 enables companies and institutions of all sizes to create effective storage solutions that can meet and adapt to the simplest or the most complex data management needs.
Open-E DSS V7 brings superior performance, extensibility and reliability, and is out of the box tuned to provide high data-throughput and data protection for centralized storage.
No need for an additional operating system - Open-E DSS V7 helps businesses to implement cost-effective data storage solutions by providing complete management software.
Open-E DSS V7 will turn any commodity server into an enterprise data storage appliance. Thanks to compatibility with VMware, Citrix Xen and MS Hyper-V, the software is an ideal tool for cloud storage and virtualization environments.
Building a storage server using Open-E DSS V7 can be done in minutes! It is fast and easy thanks to the simple installation and configuration process. Additionally, ongoing management and maintenance of the server is straightforward and user-friendly.
Subscribe to our Newsletter