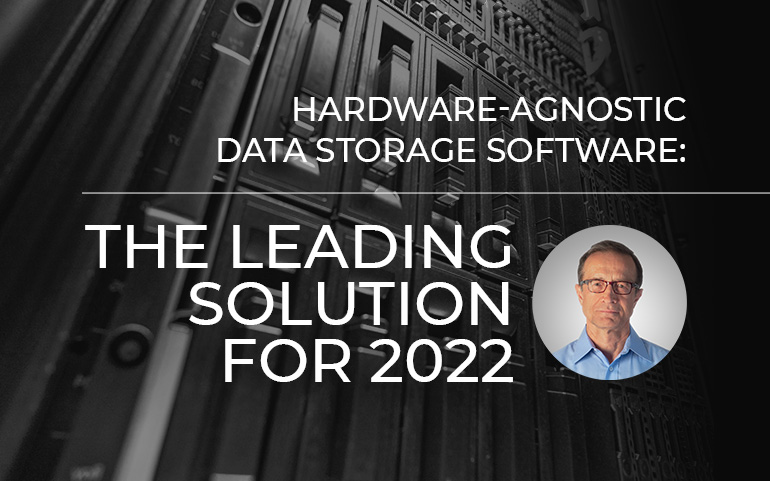 In 2021 we saw just how quickly and to what magnitude the data storage market could change due to a pandemic and lack of hardware. Let's share some predictions of hardware-agnostic software development in 2022 from Open-E's CEO Krzysztof (Kristof) Franek.
How do you assess the data storage market situation in 2021/22?
Based on current projected statistics, we can safely say that the amount of data produced by enterprises worldwide will almost double in 2022 compared to what we saw in 2020. This means that the data storage solution market will have to be ready for a huge wave of challenges as demand starts outpacing supply. We're currently working on a project for a Japanese client from the public sector and they've just requested 20PB of storage capacity, and this is just one excellent illustration of this trend.
We can see all the issues that the shortages have already created and if, as suggested by Deloitte, 2022 is to be the year of the global semiconductor shortage, then there will definitely be another massive upheaval in the data storage market. Unfortunately, the German market is no exception to this and if another year of hardware shortages does occur, we can expect the focus to firmly shift from hardware to developing Software-Defined Storage capabilities, both in and outside the DACH region.
How could Software-Defined Storage resolve the hardware shortages situation?
Thanks to SDS, we can match the unmatchable and create innovative solutions that would otherwise not be possible. Moreover, software-defined storage can be spiced-up with virtualization as well, uniting disparate storage resources from different hardware into a single unified functional whole. For example, Open-E JovianDSS can work as a physical data storage backend for virtualization as well as a virtual machine within the hypervisor. We also have an entire hardware compatibility list to showcase the numerous types of hardware the storage solution can work with.
In an era of hardware shortages, the software in data storage solutions becomes essential for enterprises looking to minimize costs and avoid being locked into using one vendor. Software such as Open-E JovianDSS can provide a high level of compatibility across every system.
What is Open-E's business model?
We use a, let's say, Business to Partner model that prioritizes win-win outcomes. As such, we don't generally sell our products straight to end-users. With about 90 percent of our sales coming through our partners or resellers and their hardware elements, Open-E is a company that looks to support our partners. Our engineers also assist in creating data storage units based on Open-E JovianDSS with any possible hardware configuration: from single nodes to High Availability clusters. With over 20 years of experience in the data storage market, we have an extensively developed list of partners worldwide, which we're incredibly proud of. Moreover, about 40 percent of our sales come from German-speaking markets.
Do you find close cooperation with partners a strength?
Thanks to our partnerships, Open-E JovianDSS is compatible with thousands of devices from different vendors and which means it can connect them all into the most suitable solution for our customers. We also offer a joint pre-deployment service with our partners that verifies whether Open-E JovianDSS was configured correctly. This transparency between manufacturer and partner has been paying off, and the very best part of it all is that the customer benefits, we benefit, and our partners benefit too!
Our goal is to promote our partners so that we can be successful together. To achieve this, we've reinvigorated our long-standing Open-E Partner Program, which now contains extensive training courses in both sales and engineering, along with some new initiatives, which we're constantly improving. We're open to new challenges and would like to invite you all to join the Open-E Partner Program.
Leave a Reply