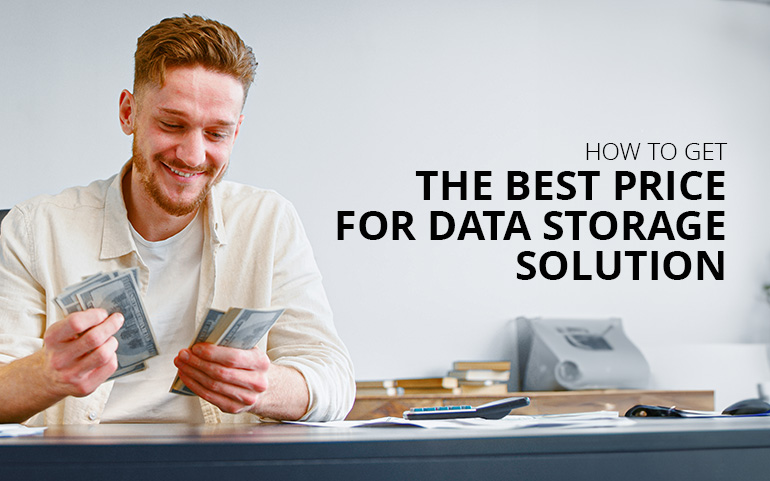 If you are one of the people responsible for your company's purchases and/or managing its budget, you will probably agree that additional savings are always welcome! What is not so obvious about it is the fact that, in some areas, determining cost-effectiveness is very hard at the first glance. Data storage is definitely one of such areas, which per se is also an incredibly broad topic. Today we put together the most important things you should know before building or extending a company's data storage architecture.
Data Storage Challenges & Threats for Your Budget
Data Safety
The best way to save money is to avoid unnecessary expenses. The most basic way to do that is by politely following legal regulations. If you respect the law, you don't risk paying fines. Using data storage in the wrong way can make it harder for you. If you keep your clients' data, you must do it safe to ensure data privacy. If you pass your data to a third-party data storage service provider, it comes with a threat. You can sign a contract that ensures data safety and availability in case of any disruption, but if the servers are hacked and the data stored on them leaks, you will be in trouble anyway. You might say – fine, but it was the fault of the data storage provider, who did not protect the data well enough. Not really – this data wouldn't have leaked if you hadn't shared it in the first place. You take full responsibility for the data of your clients and should grant them maximum data protection. This way, you are also protecting your company.
Employee Workflow
Time is also important. As we state in our Backup Brochure – "Time is money, and so is the Data". There are a number of reasons to support this quote, so let's take a look at the most important from a financial perspective.
Firstly, it refers to the time that each employee spends on their tasks. By using different tools, they can do their work faster and more efficiently, which can raise their overall profitability for the company. There are options for buying compound products containing a few tools in a single solution (for example our Open-E JovianDSS). It is a great way not only to make the work of your colleagues easier, but also to get a single solution from a single provider, which results in complex and fast support.
Losing Data = Losing Money
Constant and uninterrupted access to your data is something that supports the aforementioned workflow, but there is more to it. Do you know what the costs of losing company data are? Let's take a look at some example estimated costs depending on the scale of the business.

As you can see, the bigger the company, the bigger the costs of losing data. We are sure that you want your company to grow, so to avoid the worst-case scenario, you must ensure that your data storage administrators are equipped with the best tools and solutions to work. It enables them to provide safe data storage that copes with the growing needs of your company and ensures its Business Continuity.
There is a way to create a business-tailored data storage solution, ready to scale up and ensure safety of the data your company stores and works on. You can obtain all of that if you decide to invest your budget in…
Own In-House Data Storage Solution
Your company can have its own data storage infrastructure, ready to scale up and keep up with the growing needs of your business! You can also have a team of people who ensure data is safe. Believe it – hiring a group of skilled people to store and protect your data is cheaper than recovering from data loss after using a poor way to store data.
So while choosing an in-house data storage, you should go with a solution that lets you maximize the protection of your data. There is a solution that provides you with that. A solution supporting over 40,000 data storage installations all over the world. Let us present to you…
Open-E JovianDSS – a Friend of Your Wallet and Data Storage!
If you avoid data loss – you avoid additional costs. And this is what Open-E JovianDSS provides! But there is more to it! Our software is hardware-agnostic, which means you can build your data storage with parts from various hardware providers. You are not forced to buy a predefined setup with elements that are not necessary for your company at themoment. This lets you choose exact elements you need and compare their prices. By doing so, you ensure each component has the best price-quality ratio and you use your budget most effectively!
Managing & Protecting Data Storage with Open-E JovianDSS
Going back to protection features that save your money, Open-E JovianDSS protects your data from a very core level, through monitoring and protecting your data storage, to creating backups at the place of your work and in another location (with Open-E On- & Off-site Data Protection feature). This saves you from the consequences of such extreme scenarios, like a server room being burnt to the ground. Even in this situation, your data is safe – thanks to the off-site server that holds the backup of your data. You can, of course, have multiple backup servers.
Ransomware is No Match for Open-E JovianDSS
With our software, you can also avoid paying ransom in case of ransomware attack. When a hacker tells that your company gets data back after sending money, you can just go back to the previous, not-hacked version of your system, like nothing has happened. Snapshots empower your data storage administrators with the ability to create images of the data system and go back to it if any disruptive event on the level of the data system occurs. This also includes human errors or intentional data damage.
Open-E JovianDSS Supports You on a Daily Basis
Finally, here are some pragmatic facts about our software. Our licenses are available at very affordable prices and we are very transparent about it. Feel free to check the prices of our software. This solution is also great for data storage administrators, who will be able to manage everything with 1 software instead of jumping between a number of interfaces responsible for different features. This saves their time, lets them perform their work more efficiently, and provides better results while also raises the experience of users who access the stored data.
All in all, we support your budget in multiple ways and we constantly work to upgrade our product so it has more features to upgrade your business, so you can work more efficiently, protect your data more effectively and ensure your company's stable growth. All of that at a reasonable pricing. Feel free to share this article with other people at your company and discuss the best way to store data for your purposes and your budget!
Leave a Reply