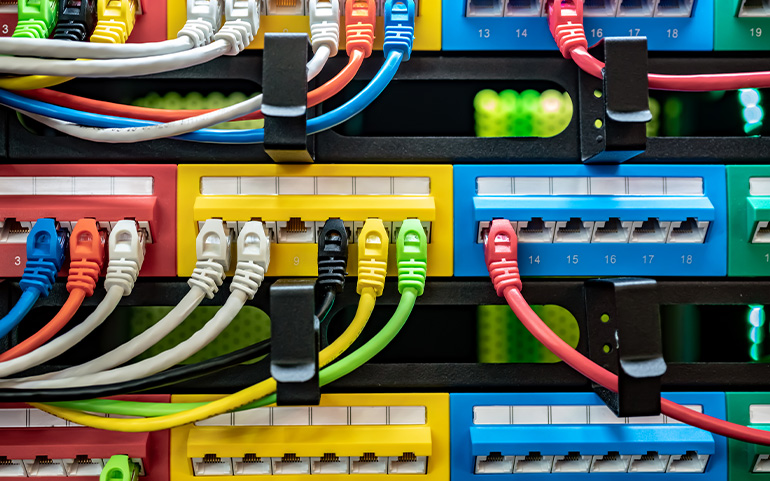 As companies grow, so too do their hardware needs. In the past, this could cause additional headaches as it meant choosing the right piece of hardware from what might sometimes have been a rather shortlist, so that it'd work with the rest of the system.
If the process of scaling up an organization's storage capabilities had looked like it had with converged storage infrastructure then hardware shortages would have undoubtedly had a much greater impact on our lives than they currently do. But, fortunately for us, the concept of hyper-convergence came about and started becoming commonplace which, in turn, made our lives somewhat easier… That being said, how can we know just how much hyper-convergence has affected our lives without understanding the meaning of the word or its basic principles? Let's take a moment to clear that up!
What is Hyper-Converged Infrastructure (HCI)?
Hyper-converged Infrastructure is an IT framework that helps you unite storage, computing, and networking into a unified system. Its architecture is software-centric and requires software-defined storage, network virtualization, and a hypervisor for virtualized computing. By design, almost everything is focused on the software meaning that the hardware selection isn't quite as complex as it was in the past, but it's of course still important to select the right hardware that meets the hyper-convergence requirements in terms of performance.
The setup looks similar to that of converged storage: it consists of a storage solution and other computing resources that are then combined into a single unit whereas with regular convergence, the components are hardware-dependent and work independently of one another. However, hyper-converged storage is more advanced and works like this: the software-defined storage solution is supported by virtualization to create a unified logical appliance.. This layer is used as the connecting link between the storage resources, and the control point of the system. The aforementioned control point is the hypervisor, which, as you might have guessed, is how the name "hyper-converged storage" came about. Why is there such a difference between converged infrastructure and hyper-converged infrastructure?
What is a Hypervisor?
The term "hypervisor" stands for virtual machine monitor (VMM). This hypervisor is what makes the data storage solution flexible and easily manipulatable. Unlike converged storage, in hyper-converged storage having one such hypervisor allows you to go beyond the physical barriers of hardware by letting you pool and share the storage resources logically with the overall pool of the entire cluster. Using this method, you can get a hardware-independent, fully virtualized IT environment.
Thanks to the hypervisor, you can easily create and host multiple virtual machines that are wholly isolated from each other but still running off of just one physical server, thus reducing the space and maintenance required.
Why is Hyper-Converged Storage Important?
So, after describing what hyper-converged storage infrastructure is and what makes it so outstanding, you might be thinking "sounds great but how does this benefit me?" We've created a list to answer just that question.
Hyper-converged storage infrastructure can easily be adjusted to your organization in terms of growth and development. With a software-centric system, you can expand the system by adding specific units and resources without spending much time on configuration.
Due to the software-based infrastructure, new features and updates can be seamlessly integrated without having to add brand new hardware components. Thanks to this, you can significantly save on costs and be more opportunistic with the hardware that you purchase, which can be pretty helpful in an era of hardware shortages.
Hyper-converged systems are much easier to manage in comparison to their traditional counterparts. The whole environment is managed by the same software solution, with daily maintenance being automated. Furthermore, the process is less time consuming as it's handled from a single platform which unifies all the tasks and takes care of the infrastructure remotely. This in turn means that there is less need for additional IT staff to be physically present at the locations thus further lowering costs.
What benefits do you get from using the hypervisor specifically? Here are some examples:
Use of multiple operating systems at the same time.
Ability to set up portable virtual machines at multiple workstations.
More efficient utilization and easy maintenance of a single physical server.
Cost-effectiveness, brought about by not having to spend extra on redundant hardware.
Hyper-Converged Storage Infrastructure and Open-E JovianDSS
Open-E JovianDSS is a ZFS-based software-defined data storage solution that supports  hypervisors like VMware, Proxmox, Citrix, and Hyper-V. The solution can be deployed in a wide variety of virtual environments such as:
1.Open-E JovianDSS as virtualized storage within the hypervisor. In this configuration, the CPU, hypervisor, storage, and virtual machines are united. Thanks to this setup, you can use less hardware and get convenient maintenance while also being able to completely manage the system remotely.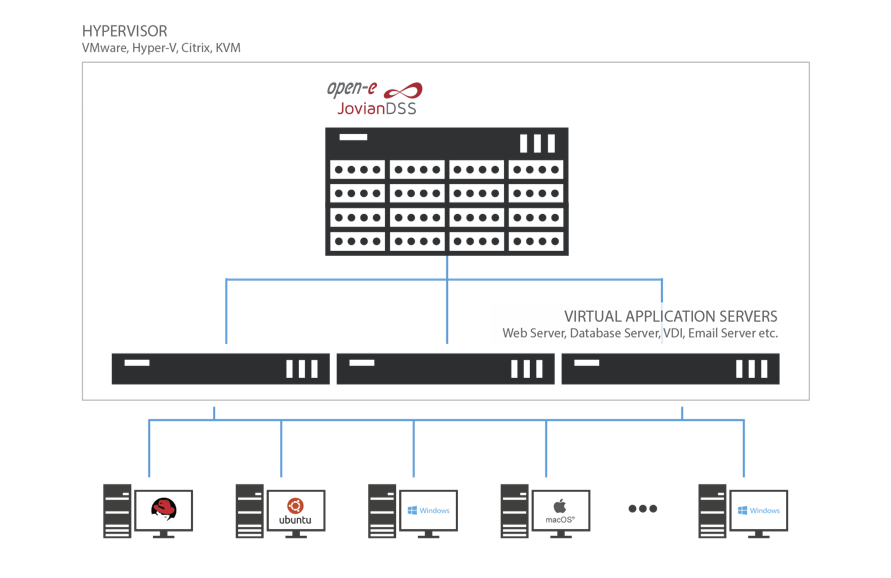 2.Open-E JovianDSS as virtualized storage within a HA Cluster based on two hypervisors. Thanks to High Availability and the failover function that's available between two data storage servers, this configuration eliminates any single points of failure and ensures uninterrupted operation regardless of the circumstances.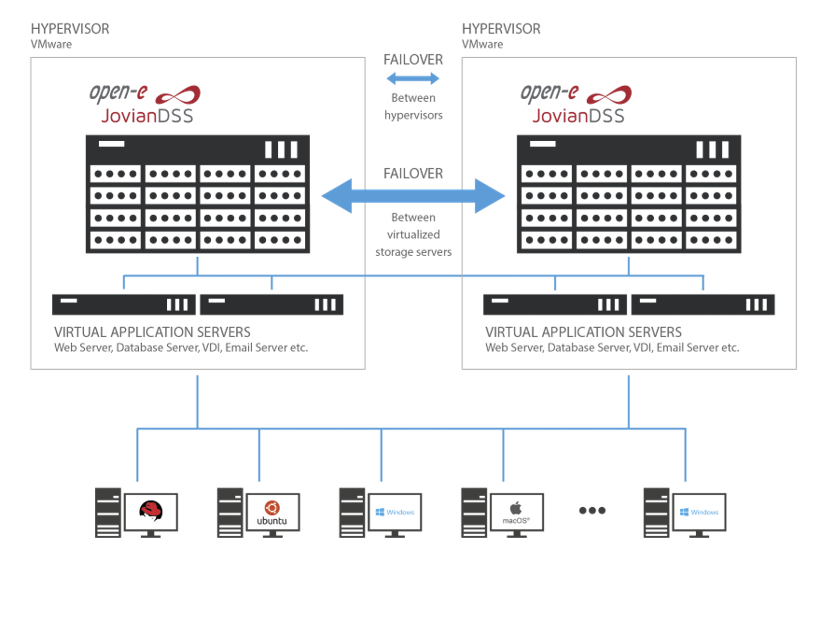 Check out the Open-E JovianDSS Storage and RAID Calculator to see the best configuration for you and download your free trial today!
Leave a Reply