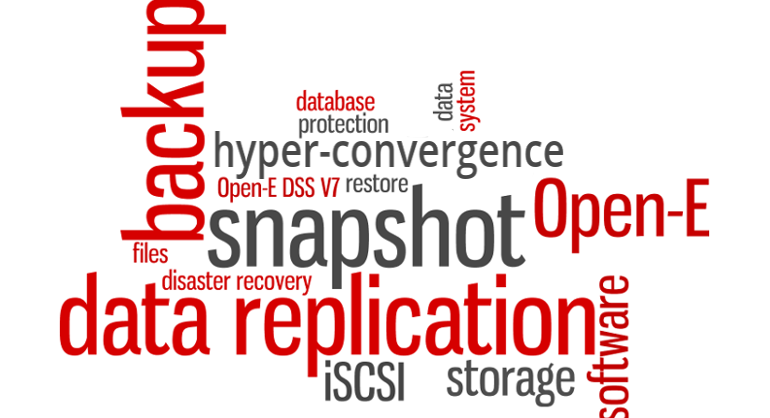 Open-E's Partner Program enables a smooth and effective cooperation with a great number of experienced resellers, system builders or OEMs. In addition to this, we ensure interoperability with our software, compatibility, quality and business trust through our technology partnerships. We cooperate with emerging vendors as well, to deliver support for upcoming technologies such as 10Gb Ethernet, InfiniBand and Virtualization which allows our OEM and system integrator partners to customize and build affordable, scalable and secure storage systems according to their customers' individual needs.
In this post we would like to share an example solution with Open-E DSS V7, set up by our Silver Partner ONE IN COM from Peru, who created a hyper-converged infrastructure with Open-E DSS V7 Data Storage Software.
Hyper-converged solution with Open-E DSS V7 and Xen Orchestra
As for the software, the solution is running on an XenServer Ver 7 and an Open-E DSS V7 on each node. Xen Orchestra (XOA) is running as a virtual app. As for the hardware setup , the solution should consist of a good quality server hardware (in their case, it was an LSI Avago RAID), minimum 5x NICs minimum, where one must be on an individual PCI (for example 2x GbE and 3 or mode 10GbE). Below you find specific setup details:
For the Open-E DSS V7 Virtual Machine on storage active node appliance:
  Open-E DSS V7
  1 x Active-Active  Failover for iSCSI or NFS (Open-E DSS V7 couple)
  8GB or more Memory
  6 or more vCores
  1 or more virtual NICs for the storage service (Xen BONDed)
  1 or 2 NICs 10GB PCI Passthrough (Open-E DSS V7 Bind)
  4GB for the boot media
  Storage amount needed for the iSCSI or NFS volumes
For 3 or more high quality servers:
  XenServer Ver. 7
  2 x E5-2620v3 or higher-grade CPUs
  32GB or more RAM
  Hardware RAID controller or other (tested with LSI). PCI Passthrough
  3 x 10Gbps NICs or more
  1 x PCI Passthrough
  High quality 100GB or bigger SSD interior SATA to motherboard
  High quality SSDs for performance
  2 x 1Gb or 10Gb switches
For general info about hyperconvergence, go to our recent blog post: Hyper-converged HA infrastuctucture with Open-E JovianDSS VSA and VMware
About ONE IN COM
ONE IN COM OEM is a company dedicated to the research and development of Storage systems, Computer Capacity (Servers), Virtualization and specialized solutions. It delivers computer technology for professional use in South America, with a system based on open architecture that allows a flexible integration of the most advanced components in the market of custom device platforms. ONE IN COM makes systems that were previously available only to corporations and governments available for businesses of all types and sizes, from small businesses to corporations and commercial data centers.
Find more info about ONE IN COM S.A.C. on their Partner Profile on Open-E website.
Leave a Reply