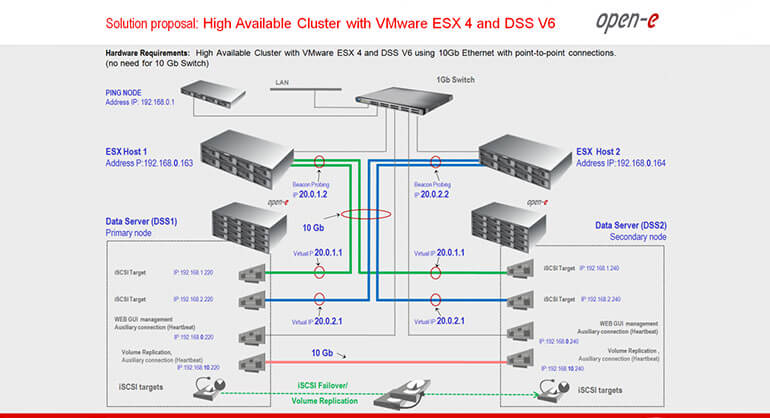 Business continuity is becoming a more and more important feature. A significant portion of the purchases of our Data Storage Software are in pairs. Customers are using pairs of 2 systems in order to build high availability clusters with our iSCSI Failover feature (our recent webinar on iSCSI Failover was our best attended webinar ever).
Getting to the point: why would one want to make switchless 10Gb connections. Even though 10Gb CX4 ports are inexpensive nowadays, 10Gb switches are still too expensive for SMB. If you are able to use 10Gb ports with direct port-to-port connections, a 10Gb solution can be crafted within a limited budget.
We have learned from our partner in Italy, Share Distribuzione, that DSS V6 iSCSI Failover works well with VMware ESX Cluster using a 10Gb switchless connection.
The configuration chart is a little daunting. But it can be explained fairly easily.
Please study the configuration chart and ESX GUI screenshots.
Here is short step-by-step :
1. Please connect 10Gb cables point-to-point as on the chart.
2. Please enter proper IP addresses of the DSS V6 console using Ctrl-Alt-N hot-key.
3. Please check the connection between all servers using ping from DSS V6 console: Ctrl-Alt-T.
4. Configure iSCSI Failover on the DSS servers (please find step-by-step configuration here).
5. Configure network in VMware ESX accordingly to ESX GUI screenshots.
The key point of this solution is Beacon Probing, which is a network failover detection mechanism, that sends out and listens for beacon probes on all the NICs in the setup. It then uses this information to determine link failure. Thanks to Beacon probing the switch is not necessary.
Leave a Reply